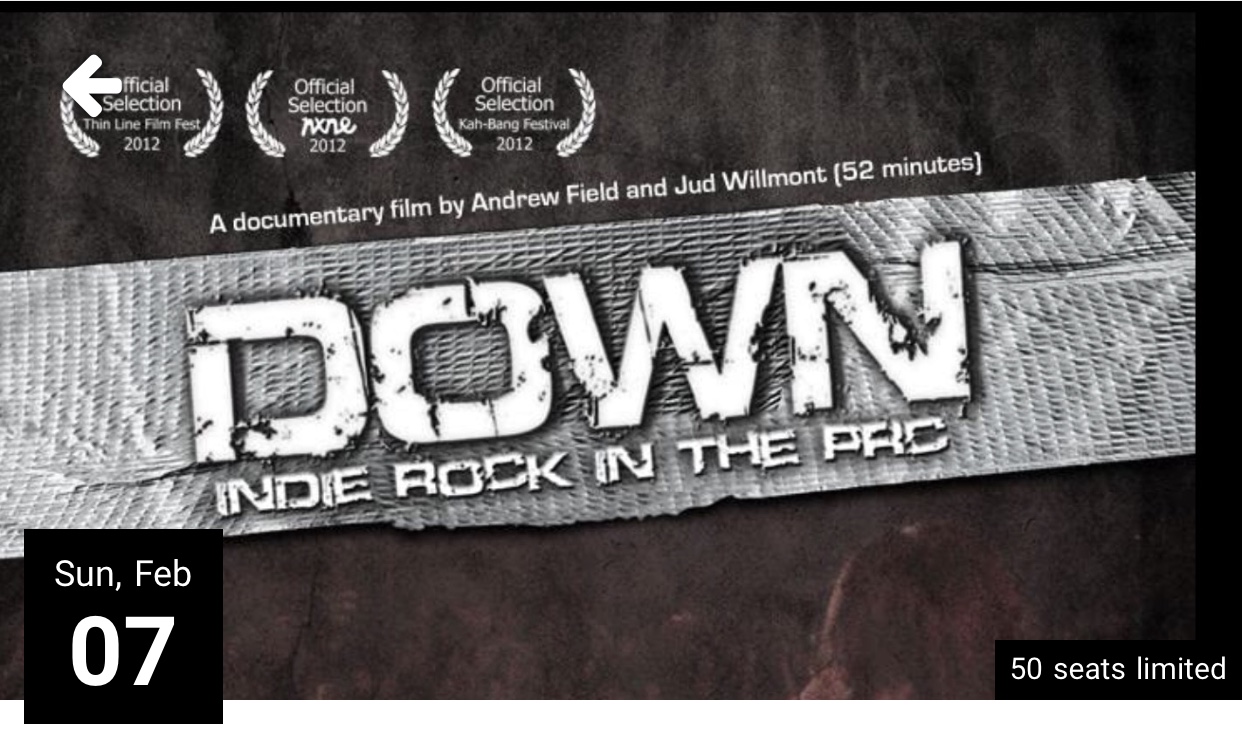 Down: Indie Rock in the PRC |Shanghai events
Down: Indie Rock in the PRC
Written, produced and directed by Andrew Field and Jud Willmont. 2012. 52 minutes.
In English. With Chinese & English subtitles.
Study Areas: Modern China, Contemporary Issues, Youth Culture, Rock Music.
In "Down: Indie Rock in the PRC", Andrew Field and Jud Willmont explore Mainland China's vibrant underground rock music scene. The 52 minute documentary's lively pace, edgy subject matter, and insider perspective is refreshingly off the beaten path of most materials developed for students of China language and culture. As such, it can provide a bold counterpoint to more standard narratives of timeless cultural traditions.
Down provides a window into contemporary China in a medium that will resonate with young people – and former young people – studying Chinese language and popular culture. While focusing on the particularities that gave rise to indie rock in the PRC, the film touches upon timely themes of globalization, artistic expression, youth culture, and urban life. Most importantly, it gives voice to a small but growing counterculture, which is both uniquely local and increasingly cosmopolitan.
The screening will be followed by a discussion with the directors.
Shortly after, we will open the stage to any musicians who would like to jam and rock some tunes!
---
Down:中国独立摇滚乐。"Indie Rock in the PRC"
2012年由安德鲁·菲尔德和朱德·威尔蒙特编剧、制作和导演,总时长52分钟。
影片语言为英语。配有中英文字幕。
研究领域:现代中国、当代问题、青年文化、摇滚音乐。
安德鲁·菲尔德和朱德·威尔蒙特在《中国的独立摇滚》中探讨了中国内地充满活力的地下摇滚乐。这部长达52分钟的纪录片生动的节奏、前卫的题材和内部视角,让人耳目一新,与大多数为中国语言和文化学生编写的教材截然不同。因此,它可以提供一个大胆的对比,以更标准的叙述永恒的文化传统。
Down提供了一扇了解当代中国的窗口,这个媒体将引起年轻人和昔日年轻人对中国语言和流行文化的共鸣。在关注中国独立摇滚兴起的特殊性的同时,这部电影触及了全球化、艺术表现、青年文化和城市生活等适时的主题。更重要的是它为一种规模较小但日益壮大的反主流文化提供了话语权,这种反主流文化既是独特的地方性文化,也是日益国际化的文化。
放映之后将与导演进行讨论。
不久之后,我们将会对任何一位音乐家开放舞台,任何音乐家都可以即兴演奏或一些曲调和摇滚在一起!