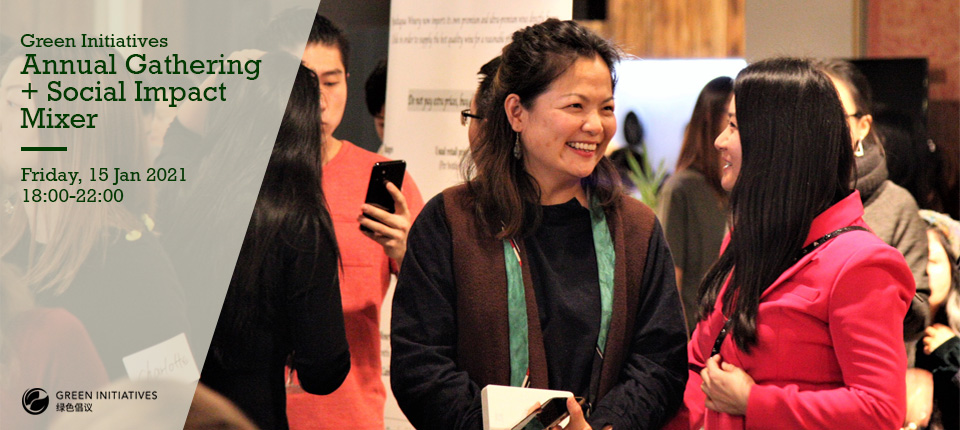 Green Initiatives Annual Gathering + Social Impact Mixer | Shanghai events
Green Initiatives Annual Gathering + Social Impact Mixer | Shanghai events
"Social change begins with personal change. We can't shift systems without shifting ourselves. Without an honest, uncompromising, objective appraisal of ourselves and inventory of our behaviors." (The Rich Roll Podcast)
A difficult year has just passed. A new year has just begun. It's winter. And it's Shanghai – wet, cold and often, gloomy. Could there be a better time to celebrate and support each other? And through some lively, heartwarming, Celtic music?
Join Green Initiatives for our Annual Gathering as we celebrate our 12th year in China, and bring our community together to support each other and celebrate life through music. It's an opportunity for us all to (re)connect with each other, and show our gratitude to those around us for bringing us this far.
Event will start with a motivational talk by Gerald Renger, musician and life coach, followed by live Celtic Music by our friends around the globe. And yes, there will be some light snacks and drinks to toast and celebrate. Join us to meet other like-minded folks in the Shanghai community, and make it an evening to remember.
---
Event Itinerary:
18:00-19:15 Registrations & Networking
19:15-19:30 Event introduction
19:30-19:45 Talk by Life Coach, Gerald Renger, Founder, deloop Asia
19:45-21:30 Celtic Music, Drinks & Networking
---
About the Speaker
Gerald is a German engineer by education, a passionate change leadership coach and performing artist. Living in Germany, Australia and now Shanghai has allowed him to work with leaders from Europe, the US, China, Japan, Australia, Korea, India, Malaysia, Singapore, Thailand and more.
After his Engineering PhD in Chemnitz Gerald started working for Daimler in Stuttgart in 1991 and soon became member in Dieter Zetsche's change management team. That's when he began to study change, leadership coaching, group dynamics, and psychology. He had the invaluable opportunity to directly learn from most advanced scolars like Edgar H. Schein, David Kantor, Larry Hirschhorn, Wolfgang Looss, Hans Jellouschek, Claus Otto Scharmer, Matthias Varga von Kibed, Richard Timel and more.
---
Note:
More details will be updated shortly.
Wine / beer / juices and some light snacks will be served at the event.
This event is FREE because we want to thank you for helping us get this far.