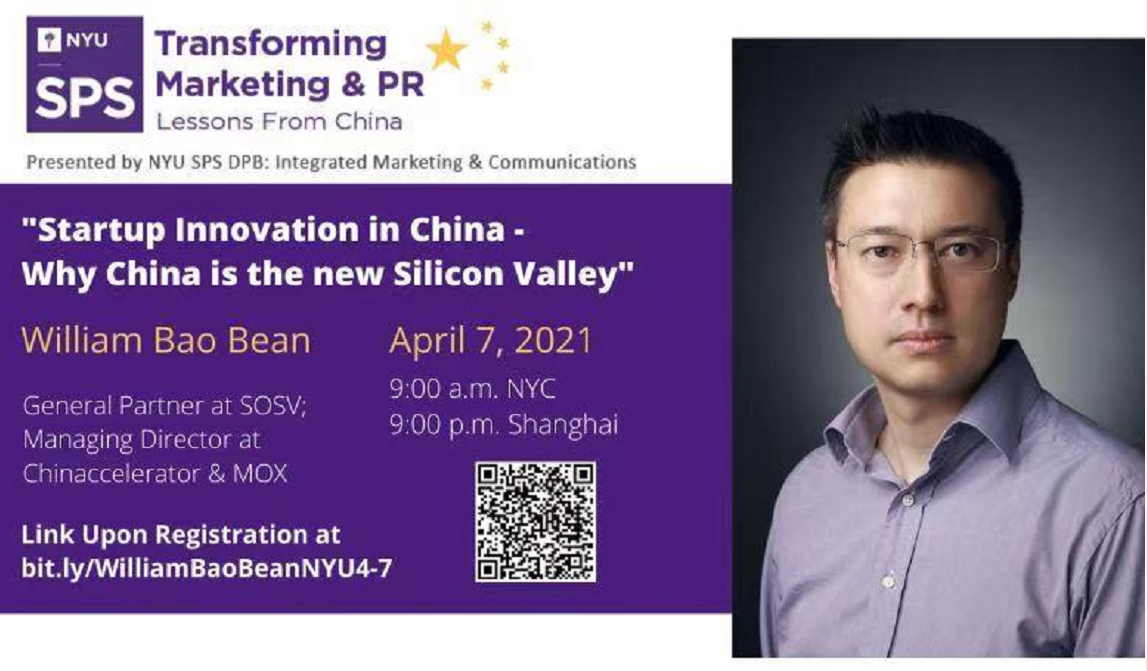 Startup Innovation in China: Why China is the New Silicon Valley | Shanghai events
Startup Innovation in China: Why China is the New Silicon Valley | Shanghai events
Join William Bao Bean, General Partner at SOSV; Managing Director at Chinaccelerator & MOX to discuss startup innovation in China
About this Event
"Startup Innovation in China: Why China is the New Silicon Valley" with William Bao Bean
Part of the Transforming Marketing and PR – Lessons From China Series
NYC: Wednesday, April 7 at 9:00am – 10:00am
SH: Wednesday, April 7 at 9:00pm – 10:00pm
Zoom Details Upon Registration
Please join us for a discussion with William Bao Bean, General Partner and Managing Director at one of the largest VC funds in China and Asia. This webinar is part of our series of explorations about the drivers of change and transformation in Marketing and PR among our community of students, professionals, teachers and scholars at the School of Professional Studies within the Department of Integrated Marketing and Communications in the Division of Programs in Business.
Several analysts suggest that the power center of VC funding and innovation is shifting from Silicon Valley to Asia, with China being the hub of activity in Asia. From Shenzhen becoming the hardware capital of China, to Beijing being the software center and Shanghai serving as the headquarters for corporate multi-nationals and tech, the pace of change in China is accelerating. The terms "China Speed" and "996" culture has proliferated through the tech world, and this energy and momentum is being transferred to how brands interact and marketing activations happen in the marketplace. Increasingly Chinese consumers are integrating, and have come to expect, their experience and engagement with brands to be significantly enhanced by new and compelling technology. This discussion with William will cover the latest developments and what lessons marketers and communicators might learn.
About William Bao Bean: "William is a General Partner at SOSV – The Accelerator VC – with US$700m under management where he is the Managing Director of Chinaccelerator, SOSV's global Internet accelerator and the first accelerator to launch in Asia, and Managing Director of MOX, the Mobile Only Accelerator with 160m smartphone users on its platform.
SOSV is the #1 most active seed investor in the world according to TechCrunch Crunchbase. William joined SOSV from SingTel Innov8 Ventures where he was Managing Director supporting China investments. While at Innov8 he led investments including Yodo1 – mobile games, GMobi – smartmobile platform, DemystData – fintech, Lekan – children's media platform acquired by Condé Nast, and Massive Impact – mobile adtech acquired by GMobi. Previously, William was a Partner at Softbank China & India Holdings, a venture capital firm backed by Softbank and Cisco, leading investments in China and South East Asia. William spent 11 years as an equity research analyst most recently with Deutsche Bank where he was responsible for Internet and Telecom Equipment in Asia and China technology, media and telecom. Previously he covered Digital Media at Banc of America Securities in San Francisco and PC/Enterprise Hardware at Bear Stearns in New York. William was an active angel investor with 39 investments between 2004 and 2014.
In 2006 he was ranked #3 All-Asia analyst for Technology/Software and IT Services by Institutional Investor Magazine Asia. In 2005, he was ranked #3 stock picker overall for Hong Kong/China and #1 stock picker in Technology, Media and Telecom by Thomson Reuters Starmine. He currently sits on the boards of advisors/directors for a number of companies including Neonan, Robin8, Yodo1, DYAD, GMobi, Silk Road Telecom, iTalki, and kineticOne as well as organizations including Angelvest, Angelcrunch (天使汇), AAMA Shanghai, Digital Matters, Techyizu and the US China Strong Foundation. He holds a BA from Bowdoin College."