Current Location:
This Article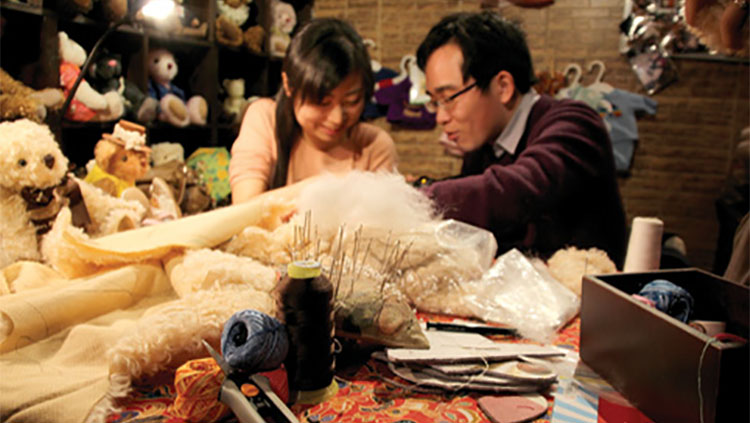 Teddy Bear Family is a well-loved and welcoming shrine to the humble ted where enthusiasts go to carefully stitch their own bears. The cosy nook festooned with teddies in a dizzying array of shapes and sizes sits just above the teddy bear cafe, a Thai restaurant, also with a fondness for stuffed bears.
Learn more about teddy bear making classes with our class wars feature.
This teddy bear-themed café located in the tourist-dense Tianzifang offers a sweet solace away from the endless flow of jostling crowds. Occupying two levels of an old lanehouse, you'll likely miss it if you're just wandering the maze outside.
Once you enter the café, you'll be greeted by an army of (no suprises here) cute teddies. It's a real paradise for teddy bear lovers, with an assortment of soft-stuffed bears on the second and third floors. Beyond the usual generic teddies, you can also find star-studded teds, like Paddington Bear and Mr Bean's teddy.
On the menu, there's the standard latte with cocoa powder sprinkled in a paw shape and supposedly that qualifies it as a Teddy Latte (38RMB). Other teddy-shaped food includes Teddy Pizza (88RMB): basically cheese pizza with a few slices of pepperoni, topped off by olives and pickles forming the 'eyes' and the 'mouth' of the bear. We were hoping for something more. In short: go there for the cute factor and not the high levels of sophistication.
| | |
| --- | --- |
| Venue name: | Teddy Bear Family |
| Contact: | |
| Opening hours: | By appointment or walk-in 11am-11pm |
| Metro: | Dapuqiao |
| English address: | Unit 23 Tianzifang, 248 Taikang Lu, near Sinan Lu Huangpu district |
| Chinese address: | 黄浦区泰康路248弄23室, 近思南路 |