Whether it's the café you posted up at every day searching online for flats when you first arrived in Shanghai or the neighbourhood shop around the corner you grew up with, we all know our cities are nothing without their restaurants, cafés, bars, pubs, theatres, music venues, nightclubs, cinemas, art galleries – and all the other local, independently run places where people come together to eat, drink, laugh, think, create, cut loose and fall in love.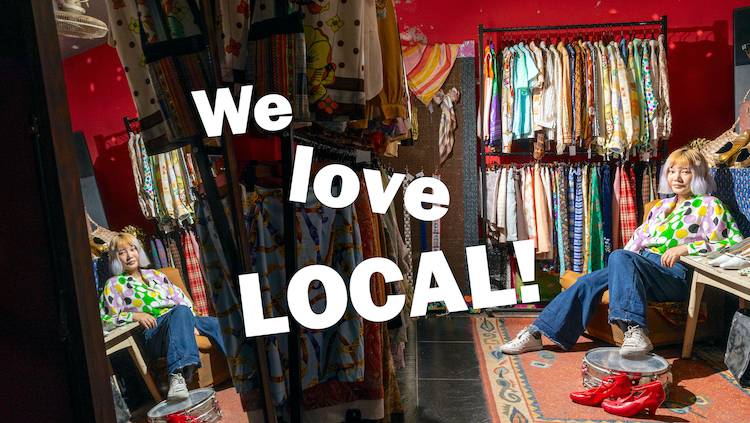 Here we're shining a spotlight on those establishments; the ones that make our city special. From the mom-and-pop snack shops open till the early hours to the non-commercial clubs giving us something other than the mainstream, we've asked Shanghai natives and long-time residents to tell us all about the places that make their hearts go aflutter for the city. And threw in a few of our own of course… Consider this a to-do list.
Restaurants and Cafés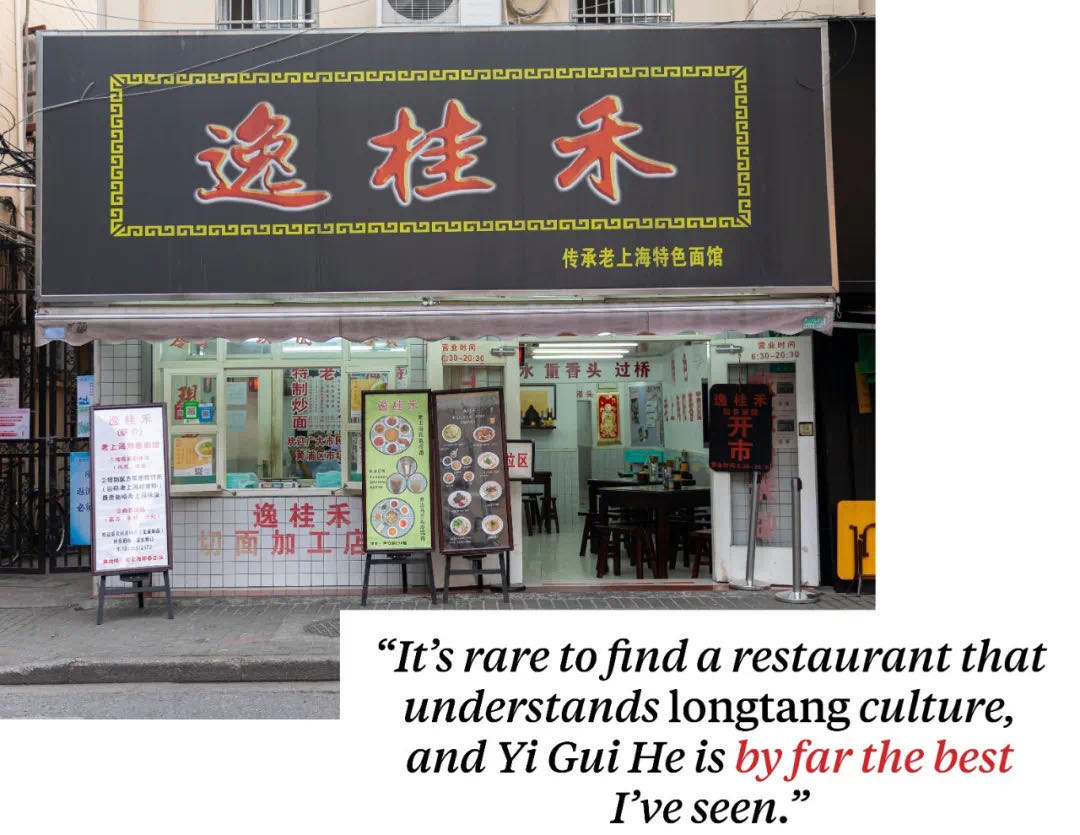 Anthony Zhao, restaurateur
Located on a historic street near Xintiandi, old noodle shop Yi Gui He takes me back to my childhood in the 80s: the chopsticks, the lighting, the words written on the wall… Even the uniforms the waiters wear belong to that era. It's rare to find a restaurant that understands longtang culture, and Yi Gui He is by far the best I've seen.
Diao Wei and Gong Xian, co-owners of Oha Group
Diao Wei: High-end Japanese cuisine is usually either unnecessarily expensive or quite cliched. At Shousi Xiaobo, there's no big flashy surprises. Bo [the chef and owner] focuses on the daily small details to create a menu that's good value and consistent.
Gong Xian: We started dining at Y's Kitchen when we were preparing our new space down the road. Over time, I've got to know the Shanghainese chef and boss Yang Wen pretty well, it's clear he's really passionate about cooking – he once said he'll cook until he can't move his limbs.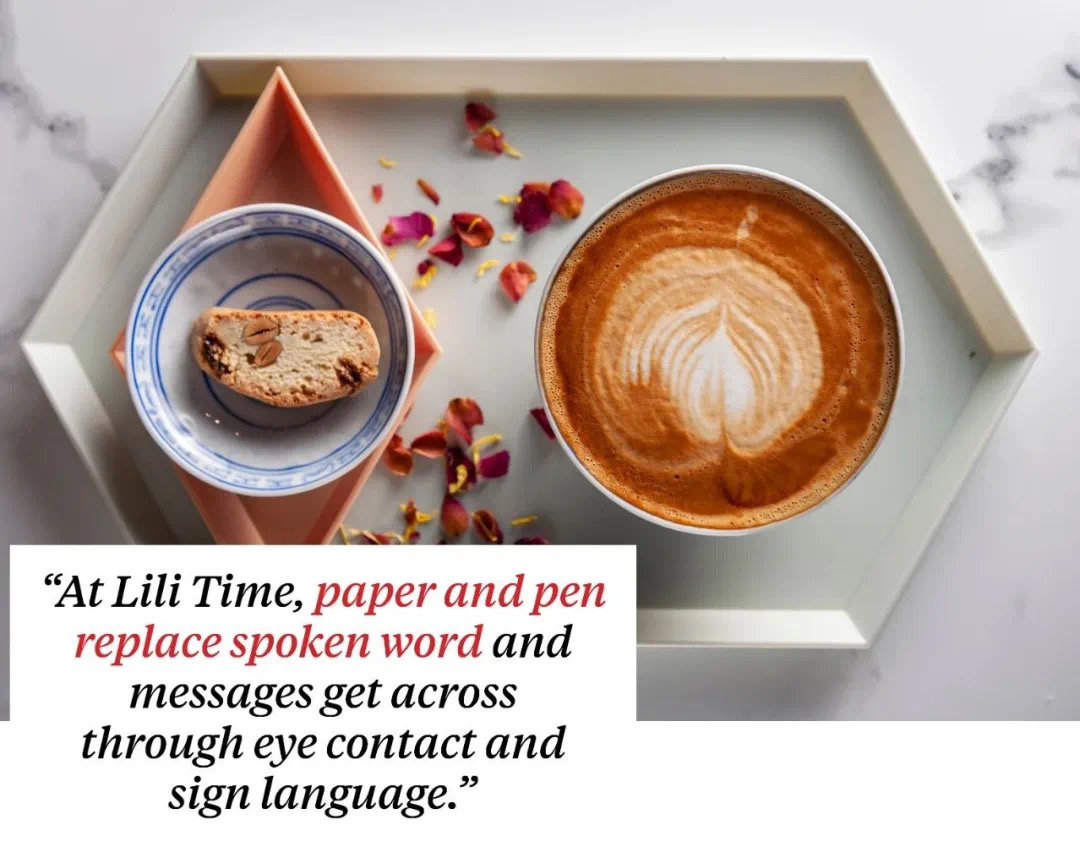 Photograph: Yang Xiaozhe
Han Ying, barrier-free filmmaker
After hearing so much about it, finally I visited this lively café on Mengzi Lu last year. Sitting inside the two-storey space, filled with laughter and music, I wondered if it was in fact the café where 70 percent of employees are hearing-impaired. At Lili Time, paper and pen replace spoken word and messages get across through eye contact and sign language. The café also hosts signing classes.
Ian Louisell, co-founder of InkSight Group
I've been going to Qishan Saozi Mian since 2013 for what is by far the best biang biang I've had in Shanghai: proper noodles, heavy flavours and tons of garlic. The suan mei tang is ice cold and free-flow – naturally they have Hansi pineapple beer too. For a premium experience, take the ferry to Dongchang Lu port at sunset and walk a few blocks for your biang biang.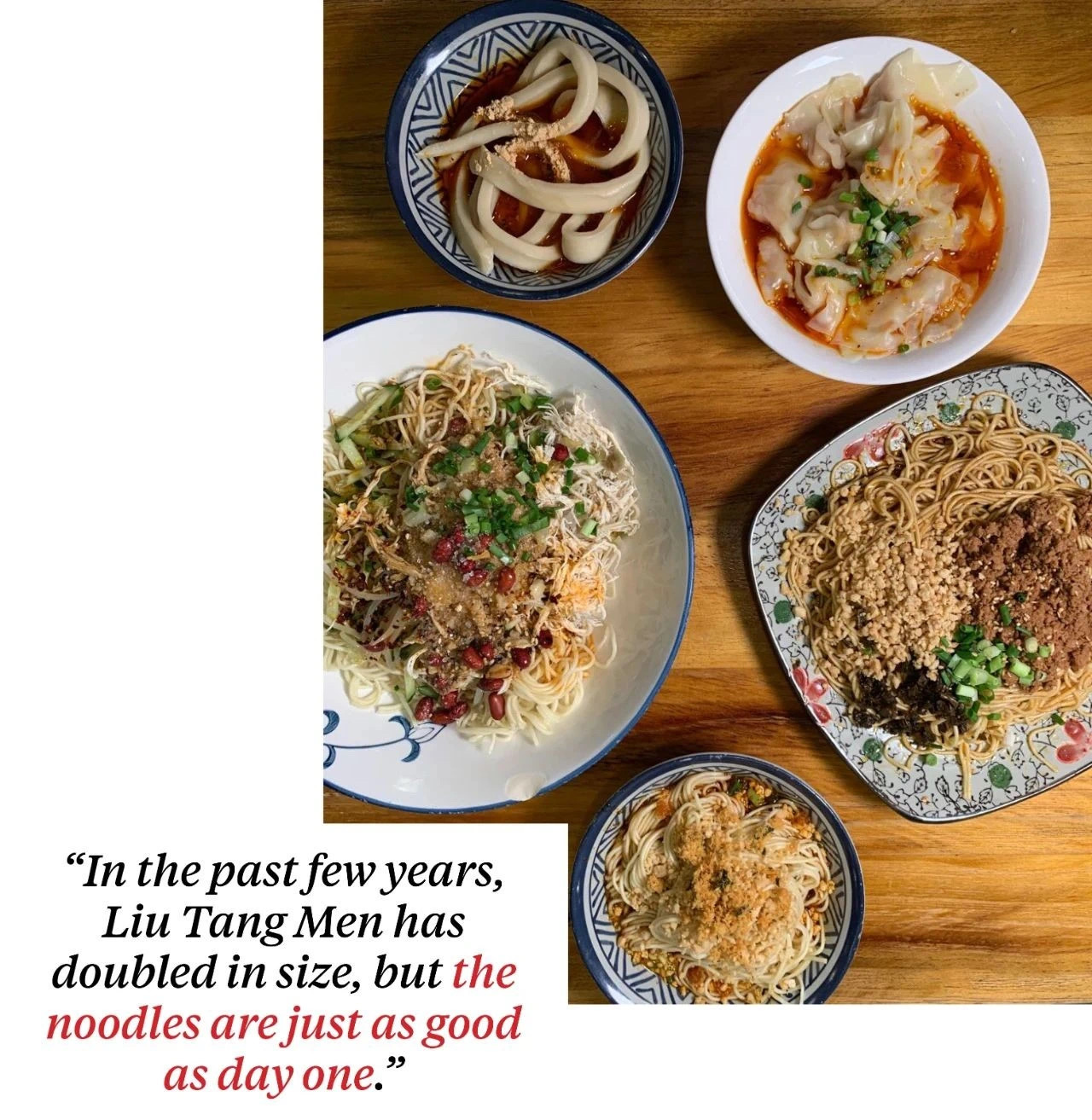 Jamie Barys, Chief Eating Officer at UnTour Food Tours
One of my favourite places to travel in the Mainland is Chengdu because I love noodles and I love spice, so I'm always on the hunt for good spicy noodles in Shanghai. About five years ago, I was told Liu Tang Men, this little shop on Xinhua, served the best dan dan noodles. They were good, but the wanza mian (cowpea noodles) were the winner that day and every day since. In the past few years, the restaurant has doubled in size, and there's now an electronic ordering system in place, but the noodles are just as good as day one. If I've been away from Shanghai, even if it's only for a week, I order them in the taxi back from the airport. It arrives at my door usually about the same time as me and it tastes like home.
Yu Zhiming, Time Out digital content editor
A couple of years ago, one of my colleagues told me that she knew a restaurant a few minutes from our office that does decent Anhui cuisine, Hui Gu Niang. I've been going to the restaurant ever since. Owned by a sassy lady and her quiet chef husband, it serves homely stir-fries and meat stews which taste more like a Shanghai interpretation of my native cuisine, but nicely done. The ventilation isn't great, so your hair smells like cooking oil for the rest of the day, but hey, it's worth it.
Photograph: Yang Xiaozhe
Sara Jane Ho, etiquette expert and founder of Institute Sarita
A friend wanted to show me this contemporary izakaya around the back of a Changle Lu office building called Xime. All I saw was a loading dock (the entrance is hardly noticeable), but once we walked in, I was charmed by its elegant kitsch and even more impressed by its food. Their curries, sushi, udon and hot pots are excellent. It's amazing that they have such a variety but make it all work.
Yang Xiaozhe, Time Out staff photographer
You have to order the dry noodles with beef soup at small lamian joint Changning Lamian. They're delicious, and it's open 24 hours.
Photograph: courtesy Asian Plus
Ting Ting Liang, owner of Roxie and RIINK
I'm all about small eats and local spots. Asian Plus (and Massé from the same team!) is one of my favourites by Shanghainese chef, Chris Zhu. I've been following her for years, and love her food, especially the Hainan chicken rice. I go for a quick nibble almost daily and, for afternoon feels, head to Masse. It's just good food and friendly people.
Nikki Lawrence, chef and co-owner of Suga'hai
I first started going to BAPS by Badboy Bangers when it was still a tiny spot called Badboy Bangers on Jiashan Lu. I loved the feel-good greasy melts they used to make, and now with BAPS I get the same feels from their burgers. My fave so far is the More Napkins!
Bars and Clubs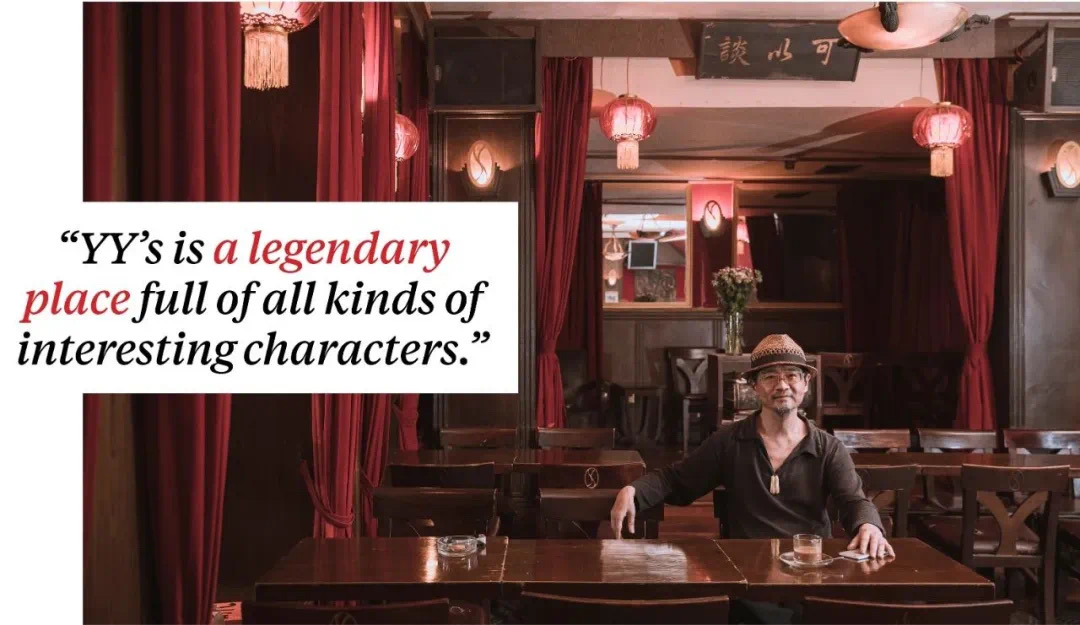 Mandy Wong, founder of Mirage. M
My all-time favourite is YinYang Bar. It's been around for 24 years and was the very first club in Shanghai. When I first went in 2011, Kenny – the owner who I've learned so much from over the years – came and sat at my table, and I've been going back ever since. YY's is a legendary place full of all kinds of interesting characters, and it's got so much history behind it.
Xiaoyi Liu, blogger at Restaurant Hunter
A mix between a Japanese cocktail bar and laidback lounge, for [a late-night] cocktail Suzu Bar is exceptional. Two bartenders share the counter here: leading act Suzuki Toshiya, the apprentice of legendary Japanese bartender Mori Takao, is accompanied by Shinoda Tomohiro. It's my place to sip on good ol' classics, like the Hemingway daiquiri, perfect Manhattan, you name it…
Storm Xu, comedian
I don't drink very often, but when I do, I go to 288 Livehouse because it has great music and shows. The owner Wang Hao (everyone calls him Wang Changzhang) is a musician and a local legend, every time I see him he's down for a laugh.
Cocosanti, premier bearded Drag Queen
From the velvet curtains to the low lights, to me The Pearl feels a bit like the Moulin Rouge. But what I really love is its commitment to the arts and efforts to uphold inclusion, the focus has always been on opening the space for artists to express themselves. Over a couple of years, I've seen performers from all backgrounds, cultures, body- sizes, genders and orientations. As a drag artist, I knew I had to perform on that stage.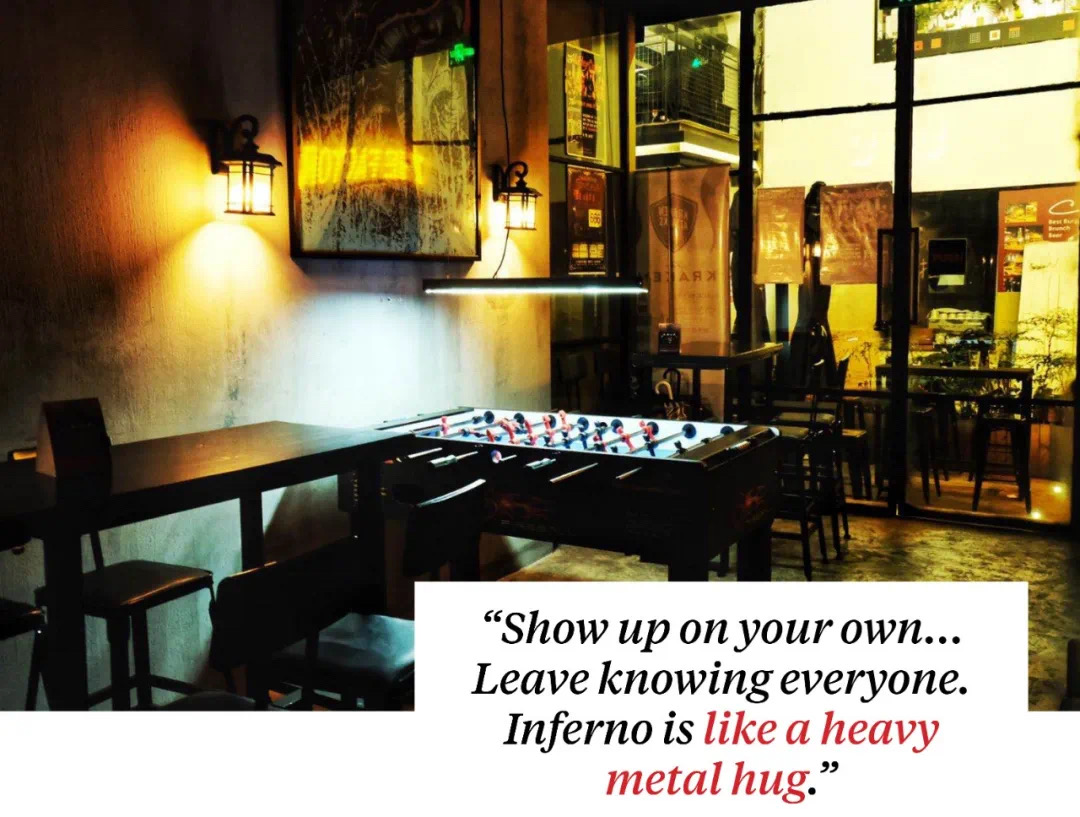 Photograph: courtesy Inferno
Sal Haque, TV producer and organiser of Popasuda
Nine floors up from Dante's wretched hell, is China's only heavy metal bar. Its legend began ten years ago, when Satan himself played a riff so sweet, a cherub cried a single tear. That tear became, Inferno. Its first incarnation was created by Martin, a Shanghai legend. Now run by Cassandra, Inferno's reanimated corpse is entombed in the golden sarcophagi of United Valley. Its bar staff is an amateur filmmaker, a karate black belt, a metal guitarist, a goth princess, and a Canadian myth known as 'Le Sishen'. While Inferno is a metal bar, it's always been about the people – a lovely blend of misfits from across the world. Show up on your own… Leave knowing everyone. It's like a heavy metal hug. Also, if you defeat the German Metalheads at foosball, you rid the table of an ancient curse, releasing the soul of a lost Prussian king.
Eddy Yang, co-owner of Chameleon
Atelier is actually a recent, but favourite discovery of mine. It's one of well-known mixologist Daniel An's creations and has been one of the top spots for cocktail aficionados since it opened three years ago.
Stores and Markets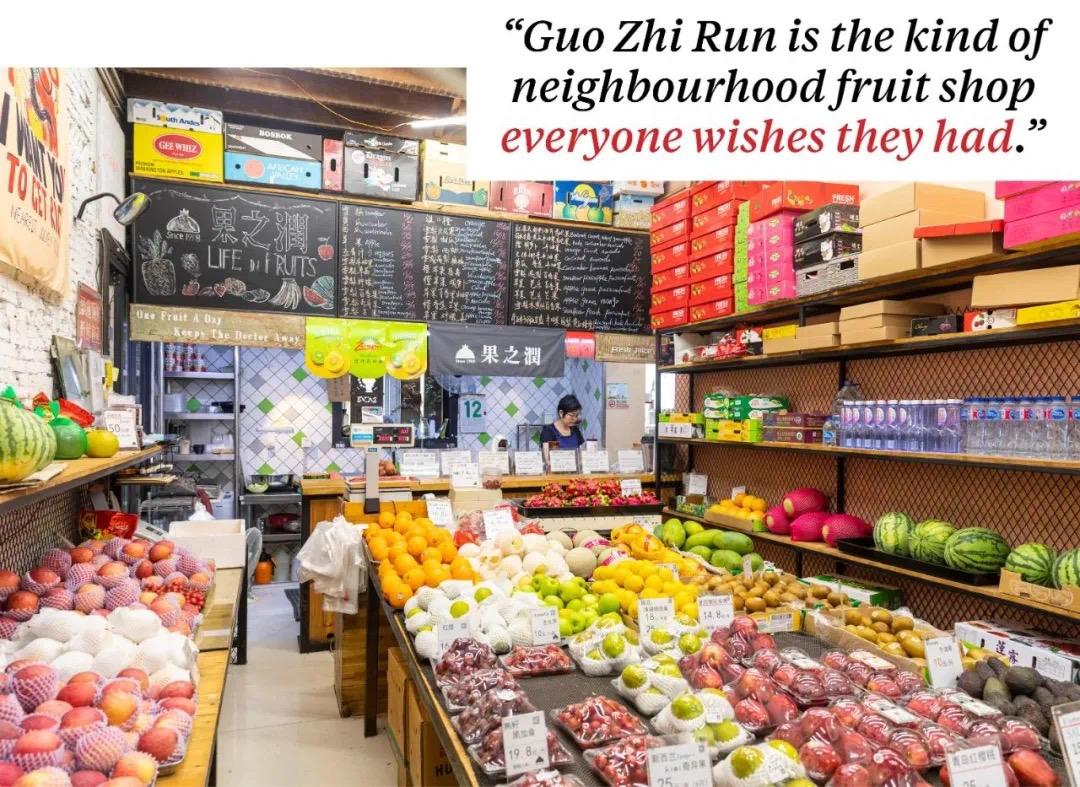 Amy Snelling, Time Out associate editor
Family-run Guo Zhi Run is the kind of neighbourhood fruit shop everyone wishes they had. Around since 1988, it's the sort of place where you drop in for a few oranges and leave 15 minutes later with a rainbow of seasonal fruits and a new-found knowledge of what's good right now. The best bit? The juice bar at the back of the store that turns out a rotating menu of bargain juices made fresh to order.
Alejandro Scott, filmmaker
In the Xingguang camera market (a temple to me), Fei Yi Digital Camera Accessories Store is a small, quiet one. It doesn't sell any big equipment nor specialise in a single brand, what this shop has is charm thanks to her owner, Ms Chen Su Hua. She'll always help you if she can. Whatever you need, she always knows someone that has it or who knows where to find it.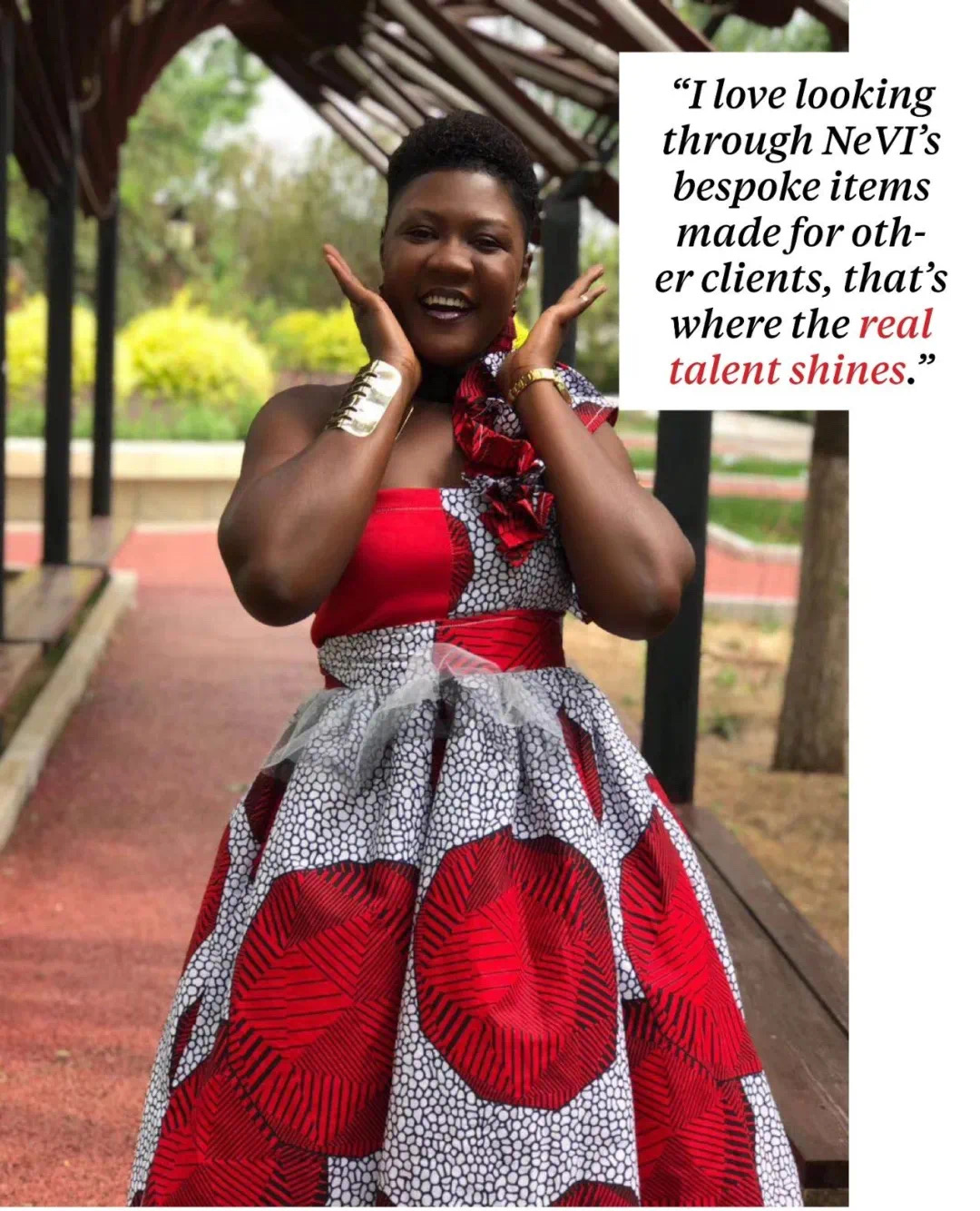 Photograph: courtesy NeVI
Anita Mbunwe, DJ Tina Turnatrick
NeVI is an amazing custom clothing company that operates mostly via WeChat, and the occasional market. It's owned by the awesome Ahoufe who has a fantastic eye for design and does an amazing job blending traditional West African fabrics with modern fashion from all over the globe. Their clothes are playful, functional and glam all at once. I've been a patron over the last year and while my favourite items are the kimonos and most of the ready to wear line, I love looking through the bespoke items made for other clients, that's where the real talent shines.
Jiner Cheung, writer and blogger
Named after the Chinese translation of Yehuda Amichai's last collection of poems Open Closed Open, Kai Bi Kai Books is the place where people who care about books (not rankings) gather. Quiet, unique and not at all commercial, you can always discover things here that you can't find elsewhere.
Photograph: courtesy Yang Xiaozhe
Cat Nelson, Time Out editor
I grew up thrifting and always prized those finds the most deeply in my wardrobe. There's just something about clothes with history. Vintage shop Abandon seems to be on the same wavelength. Owners Sophia and Rebecca choose their items with a lot of love, which you can tell in their selection.
Jiro H, restaurant operations
Record store The Melting Pot is where I go to listen to people play vinyl with a beer in my hand – mostly when there's an opendeck because anyone can play. It feels like home and I feel inspired by the guy behind it, Xiao Chao (he used to be a Bboy and collects rare groove), and his friends who are very passionate about music.