Current Location:
This Article
While most of us older folk no longer really have energy to go knocking from door-to-door in pursuit of vast amounts of chocolate every Halloween, that doesn't mean that we can't get our sugar high during spooky season. From a chocolate-rimmed martini to a Negroni-esque drink garnished with Maltesers, here's five great chocolate cocktails in Shanghai.
Grasshopper at Valpasso
For dessert in a drink, the grasshopper's always been the golden ticket. Smooth, refreshing and glowing green, Valpasso's version doesn't veer off-course from the cocktail's conventional form – equal parts crème de menthe green liqueur and crème de cacao white chocolate liqueur, milk and cream – shaken together and then signed off with a sprig of mint and grated flakes of white chocolate. Basically a mint Aero bar in a glass. 95RMB.
Beton Cappuccino at Speak Low
No, this Czech-inspired cocktail at Speak Low's third-floor bar isn't the snazziest cup of cappuccino you've ever seen. Yes, it may look that way but it's actually a cold bevvie and twist on a beton – a herbal Czech-style of G&T comprised of Becherovka herbal liqueur and tonic water. A shaken egg white means the drink's also topped with a lovely foamy layer top that's dusted with chocolate powder. All in all, still very snazzy… and very chocolatey from the addition of cacao butter-washed vodka and Bols cacao liqueur. 120RMB.
Chocolate Martini at Suzu
When you want your sugar rush with a side of low-lit sophistication, Suzu's chocolate martini will take care of you. The rosy-cheek inducer stirred up by the suited bartenders may be rimmed with chocolate but it certainly isn't the creamy, saccharine chocolate martini of the '90s you might remember. Instead, this one's clear (courtesy of a colourless white cacao liqueur) and very strong (thank you, generous dose of vodka). 105RMB.
Chocolate Legend at Mad Dragon by Shanghai Brewery
If you love a Negroni and have an Augustus Gloop-sized love of chocolate, then this drink at Mad Dragon should suit down to you down a tee. It's essentially a chocolate-based take on the classic Italian tipple – putting the vermouth and gin double-act (Crimson Pangolin is used here) behind a rich, sweet outlier of cacao liqueur and chocolate bitters. The Malteser garnish quite literally sweetens the deal. 88RMB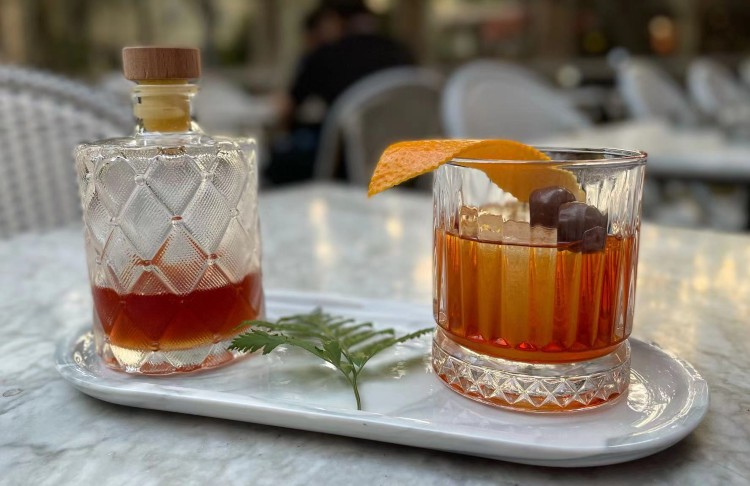 Chocolate Honey at Highline
Your inner chocoholic child self will be delighted with this chocolatini riff at Highline. A blend of Baileys, vanilla vodka and oat milk, half-rimmed with a swirl of milk chocolate that'll definitely be licked clean, it's the sort of sip that you feel inclined scull, but really should be savouring. 88RMB.