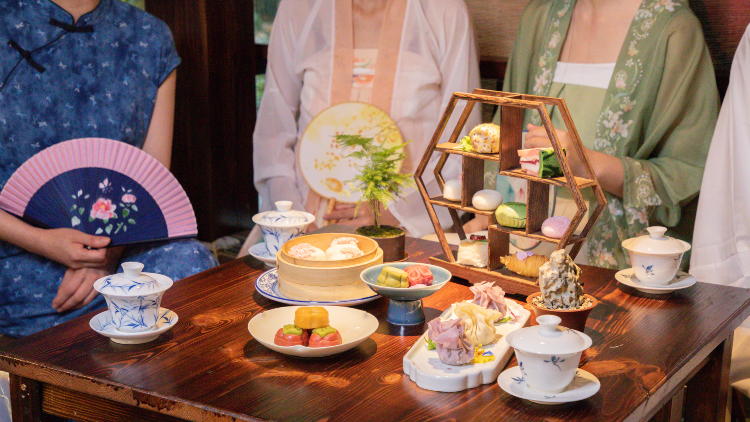 Much has been recently written about the growing trend of coffee shops here in Shanghai. Despite being the world's coffee capital, a tea shop revolution is unfolding beneath our collective noses. We're not talking about milk teas, fruit teas or anything bubble-related, but the growing market for getting a good cup of char to unwind and revitalise your thoughts. Below, we take a look at six recently opened teahouses that can put you on the path to zen, from an upscale boutique to a vision of a distant planet by way of a secret garden hidden in the heart of the city.
T9 Premium Tea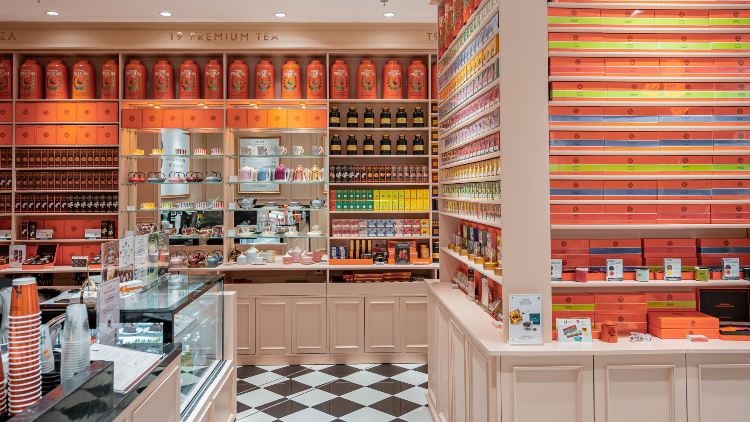 One of the new brands leading the charge to return teahouses to their state of former glory originates from right here in Shanghai. T9 is China's first boutique tea brand, providing refined flavours in an upmarket environment. While they do offer tea-based drinks with a modern makeover (think tea lattes and herbal fruit teas), they're committed to standing behind the image of Victorian England's traditional tea culture. While the brand was established back in 2016, first as an online tea supplier before expanding into opening their own teahouses, their latest shop in Xujiahui is less than a month old. The café is decked out in an elegant style that equally charms and lifts the spirits by evoking an air of gentrified sophistication that Kenneth Branagh's Hercule Poirot would be comfortable in.
T9 Premium Tea, Sixth Floor, Grand Gateway 66, 1 Hongqiao Lu, near Huashan Lu.
Bliss Light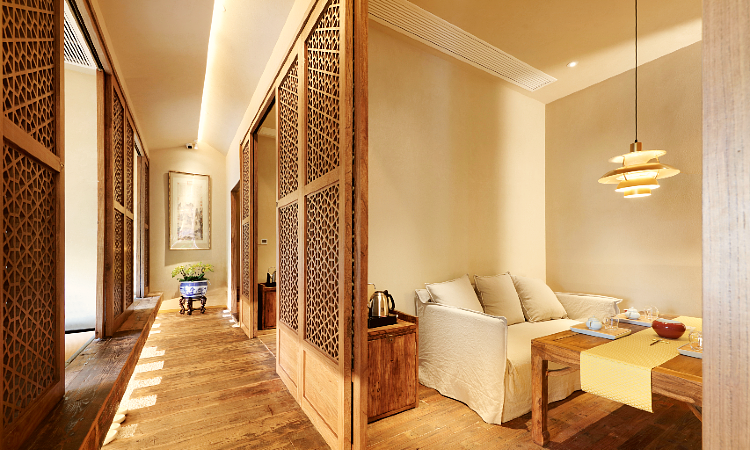 Teahouses have been entwined with Chinese culture since the Tang Dynasty, intended to be a meeting place for all manner of conversations. Bliss Light leans heavily onto this convention, albeit with a more contemporary twist that indistinctly speaks Oriental rather than direct Chinese. The layout resembles a high-end, antiquated train carriage, with eight high-ceilinged berths stemming from the main passageway. From here, you're transported into a private space by way of clean and modern designs that incorporate old reclaimed timber and subtlely patterned walls which help to decompress and calm your thoughts back into a natural alignment. Already ranked on Dianping as Changning's best teahouse, the quality of tea is sublime as are the homemade snacks served alongside.
Bliss Light, 640 Dingxi Lu, near Fahuazhen Lu.
Koi 5715.01 (锦鲤 伍柒壹伍点零壹)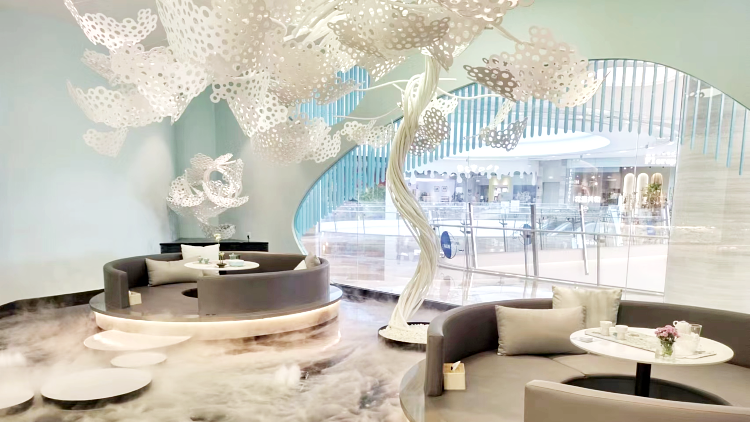 Taking its name from a superhabitable planet found some 3,000 light-years from Earth, it's perhaps unsurprising that this new teahouse has an ethereal, otherworldly quality about it. The overall look projects a clean futuristic design over a more traditional teahouse setting. The interior contains numerous private tearooms dotted around a central garden with pools full of koi and calming Chinese folk music. Yet while the aesthetics transport you to a greater beyond, the drinks and service are deeply rooted in over 1,000 years of tea culture heritage. Not only does the menu contain the likes of raw Pu'erh (生茶) and Yancha (岩茶), but they also specialise in Chabaixi (茶百戏), an art form of painting pictures onto the rich foamy surface of a Song Dynasty whisking tea.
Koi 5715.01, Room 305, Third Floor, Raffles City The Bund, 88 Tongren Lu, near Yanan Zhong Lu.
Jin Yun's Tea Garden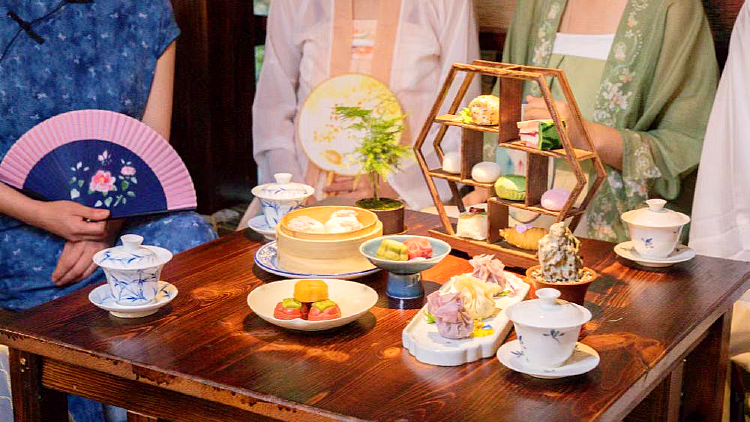 If a classical sense of nature is more your thing, this is the very tea house you've been looking for. Tucked away at the bottom of the lane leading from Yuyuan Lu (which is also home to Spectres), this hidden teahouse is a magical place. Not only are the indoor tearoom areas beautifully wood-crafted in gazebo-like structures, but they also have, as the name suggests, a picturesque garden to lose your worldly worries. By day this is a tranquil refuge from the hustle and bustle of central Shanghai, yet by night the fairy lights and perceived solitude carries you off to Instagram heaven.
Jin Yun's Tea Garden, Bldg F, 753 Yuyuan Lu, near Jiangsu Lu.
Kaiji Teahouse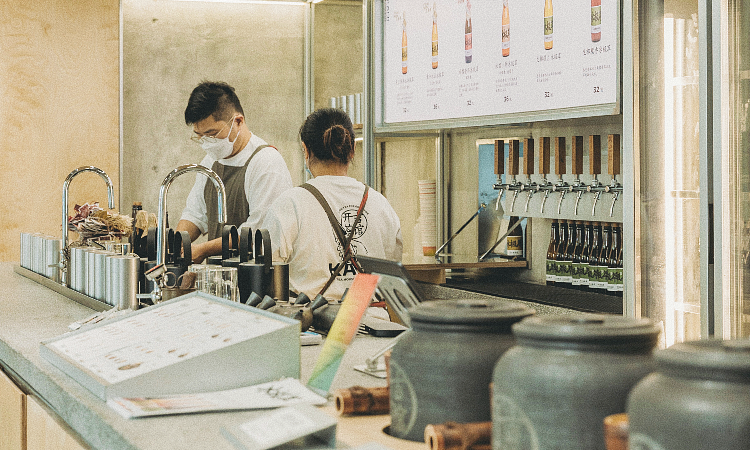 The self-proclaimed teahouse of the youth, Kaiji is a new breed of cool where old meets new and is made accessible. Born from the idea that teahouses should be a meeting place where all fractions of society can come together, the small dishes on the menu are a subtle nod to a forgotten history. The design seamlessly juxtaposes contemporary Bauhaus-tinged aesthetics with traditional touches, such as a selection of low tables and stools that harken back to simpler times. Yet this is also a place where packages of tea leaves are pressed into waffle-shaped bricks and wrapped to look like vinyl records, where the serving area feels like a cocktail bar, and where cold brew drinks are served in craft beer bottles after being chilled to 4°C degrees in 20 seconds to preserve flavour and exclude a bitterness in taste.
Kaiji Teahouse, 119 Nanchang Lu, near Ruijin Er Lu.
Tea'Stone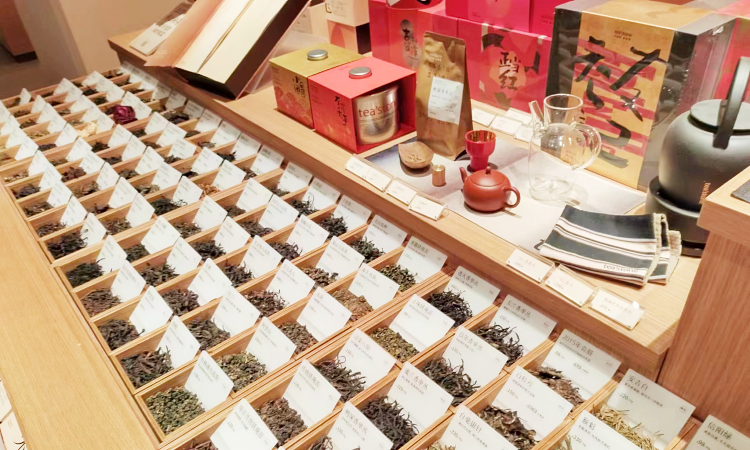 Another teahouse styling itself on the sleek and trending coffee shop model, Tea'Stone has a modern, laid-back vibe which perfectly fits the area it's located in. Having first opened its doors in Xintiandi at the end of July, the notion of a rejuvenated concept built on foundations of Chinese heritage is captured wholesale. Seating is available inside and out, with the former featuring low-level lighting, soft indie music and décor dominated by light woods and an abundance of plants that serves to evoke nature and release tension. Along with an impressive selection of loose tea leaves for sale, Tea'Stone also has an extensive range of ceramic and glassware tea paraphernalia.
Tea'Stone, 380 Huangpi Nan Lu, near Xinye Lu.