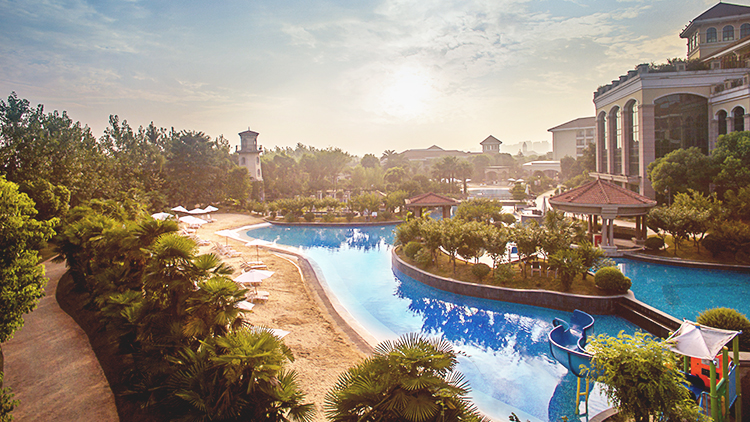 When Shanghai's streets start steaming with more heat than your neighbourhood barbecue joint and the summer showers are really raining on your parade, just keep calm and carry on. You might already know about the fantastic al fresco happy hours or how to live like it's the weekend everyday of the week, but we've got even more tips on how to make the most of the season. Here's the essential list of the best things to do this summer, whatever the weather.
Kick back in these outdoor pools
1. Sofitel Shanghai Sheshan Oriental
Make like you're in the Med at the Sofitel Shanghai Sheshan Oriental's super-luxe pool with its 4,400 square metres of crystal-blue swimming territory surrounded by a manmade beach, rows of loungers, bars, palm trees and faux-Mediterranean architecture. 300RMB (adults pool entry only); 150RMB (kids, pool entry only); from 598RMB (pool access and brunch buffet).
2. Mandarine City
Set inside a housing complex, Mandarine City's large pool is a favourite with everyone from residents to Gubei daytrippers who get stuck into the pool bar. Expect it to fill up fast, especially on the weekend. 100RMB (adults); 60RMB (children).
3. Grand Plaza Club House
Also known as the 'Maya pool', Grand Plaza Club House's pool is situated inside the same compound as Mexican restaurant Maya. It's one of the most popular outdoor pools in the Former French Concession and packs out quickly with sun-seekers who settle in for a chilled day of drinking. 100RMB (Mon-Fri); 150RMB (Sat-Sun).
4. Shimao Riviera Garden
Part of a fancy Pudong residential complex, the Shimao Riviera Garden pool is the sort of place a Miami resort pool party might groove in, with an enormous pool, faux-beach, deckchairs and bar. It gets pretty busy with families on evenings and weekends. 200RMB (adults); 100RMB (children).
5. Oriental Sports Center
The Oriental Sports Center's large outdoor pool (across the road from the main indoor pool) is the place to be for serious swimmers looking to do some actual laps under the sun. 20RMB (outdoor pool only).
6. Purple Mountain Hotel
The Purple Mountain Hotel might not be in the most glamorous part of town – stranded in a nondescript part of Pudong somewhere between Lujiazui and Century Park – but this means that it's excellent rooftop pool often flies under most people's radars when the sun comes out. There are two pools – one for adults and one for kids (the latter is half the depth of the former, at 1.5 metres) – and views across the eastern side of the city from the fifth floor terrace they sit on. 200RMB (adults); 100RMB (children).
7. Make a splash at The Mansion's pool parties
Break out your best bikini and board shorts for westward den of iniquity The Mansion's themed pool parties through the summer (weather permitting). The 150RMB entrance ticket includes five drinks, and you can take your own meat and veg to grill on the communal barbecue. Follow 'the-mansion' on WeChat for upcoming party details.
Get a taste of the high life at rooftop bars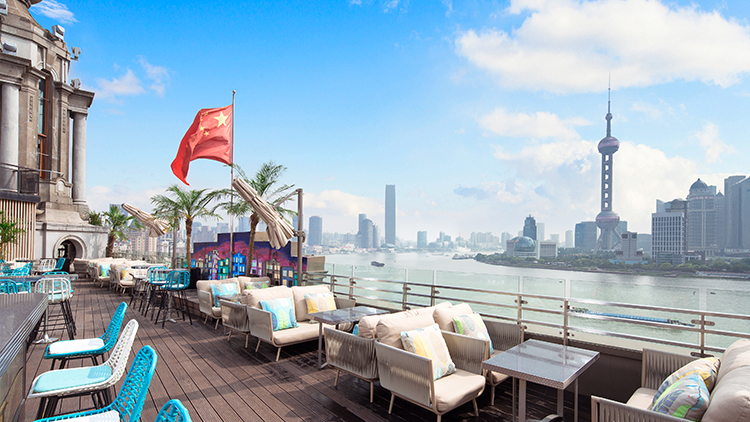 8. Flair
On the 58th floor of the Ritz-Carlton Pudong, open-air bar Flair brags one of the most impressive views in the city, and like many Bund-side bars, the prices to match – but it's still well worth a visit.
9. VUE Bar
Hyatt on the Bund's rooftop VUE Bar knocks it up a notch with a luxe hot tub on the terrace, daybeds and happy hour Tuesday from 5.30-7pm and over the weekend from 2-6pm.
10. POP Bar
Thanks to its breezy American coastline vibes, POP Bar is a summery space to chill overlooking Lujiazui. Get buy-one-get-one-free cocktails at their daily happy hour from 5-8pm.
11. The Captain
A chill Bund-side bar, The Captain's got a well-executed cocktail menu, dapper nautical settings, and full views of the Lujiazui skyline. Plus, it's happy hour Monday through Thursday from 5-7.30pm.
12. Kartel
Offering an alternative view of Shanghai (ie not Lujiazui or the Bund), Kartel's terrace overlooks low-rise Former French Concession rooftops. Get there for the 6-8pm daily happy hour for 30RMB drinks.
13. Mayita
With palm trees, good vibes and some killer happy hour deals on beers, cocktails and pitchers (5-7pm daily), Mayita's rooftop is a great space to unwind with a margarita, or two.
Once you're done with the rooftop views, you can…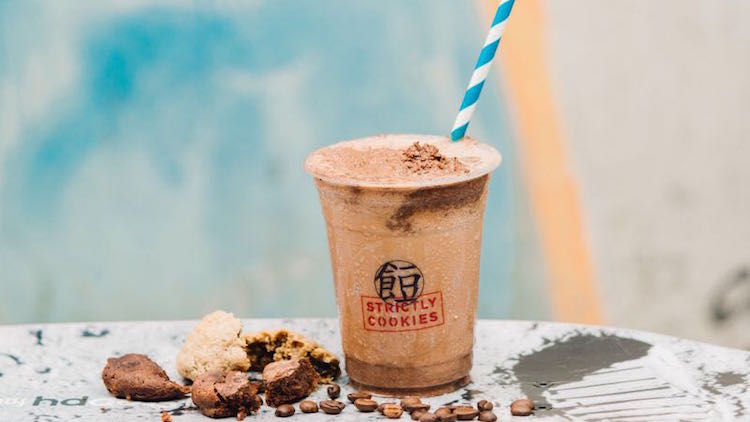 14. Gulp down a limited edition Strictly Doe Cookie Frappe (45RMB) at Strictly Cookies (Panyu Lu) or Doe Coffee.
15. Hangout in German cash-and-carry Metro's huge walk-in meat freezers until you're asked to leave the store.
16. Treat yourself to a Prosecco-soaked fruity ice pop (68RMB) at stylish ice cream bar Pree.
17. Sink into a plush sofa for a nap at underneath IKEA's famed air con.
18. Slip 'n' slide your way around Playa Maya water park.
19. BYOB (bring-your-own-brandy) and get Bread etc's Ice Granita Café (30RMB) to go for a cheeky frozen Irish coffee.
Go for a late-night picnic at these 24-hour parks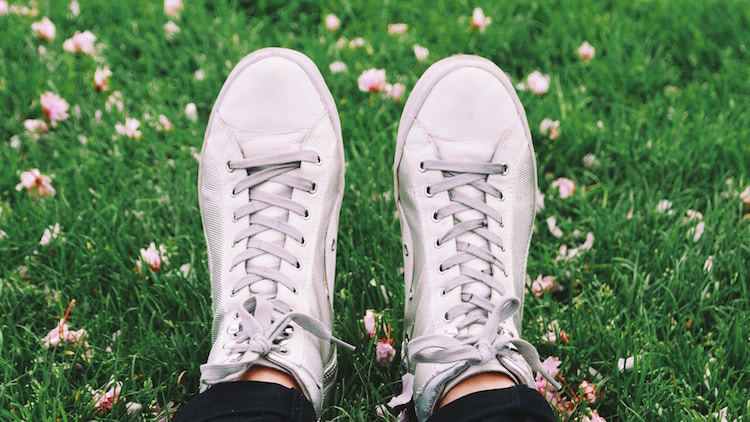 20. Zhongshan Park in Changning district.
21. Xujiahui Park in Xuhui district.
22. Jiaotong University Park in Xuhui district.
23. Xiangyang Park in Xuhui district.
Or if late-night activities aren't your jam, then…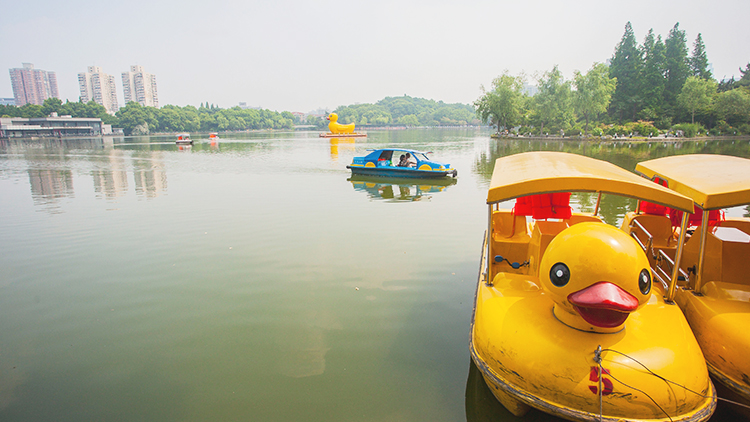 24. Spend a morning on the water at Changfeng Park lake
One of the more lively parks in town, boats abound on Changfeng Park's large lake making it the perfect spot to mess around on the water. Make your way over early in the morning (from 8.30am) for a serene paddle before the sun starts to scorch. Depending on your energy levels, both electric boats and pedalos are available to rent for 60RMB an hour. When you're done boating, join the landlubbers and follow the manmade river that runs off the central lake by which you'll find plenty of shady nooks to bunker down in.
Fire up the barbecue at one of these parks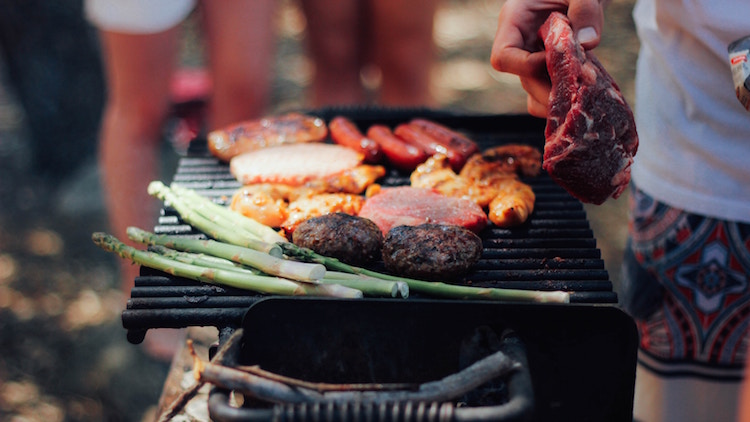 25. Gucun Park
This forest park has 40 tented waterside barbecue pits, including a VIP area of bigger, better pits. There's also a shop selling meat, fish and vegetable skewers, plus beer and ice creams, or you can bring your own. Gucun Park entry is 20RMB; 150-480RMB barbecue rental for two hours.
26. Shanghai Sculpture Park
Set aside a day for a trip to Sheshan's Sculpture Park. As well as enough barbecue pits for a mini party, the park has a beautiful lake, a manmade beach and some slightly bizarre sculptures. Plus a slightly higher entrance fee (100RMB) and considerable journey time from downtown mean you're pretty much guaranteed some peace and quiet. Bring your own food for the grill. 100RMB park entry; 100RMB barbecue rental.
27. Gongqing Forest Park
As well as a huge amount of green space for picnicking, Gongqing Forest Park has a series of barbecue pits for four to eight people to rent for two hours with packs of wood and charcoal included. Bring your own food and book ahead when the sun's out. 15RMB park entry; 100-180RMB barbecue rental for two hours.
Get a culture trip at these (blissfully cool) museum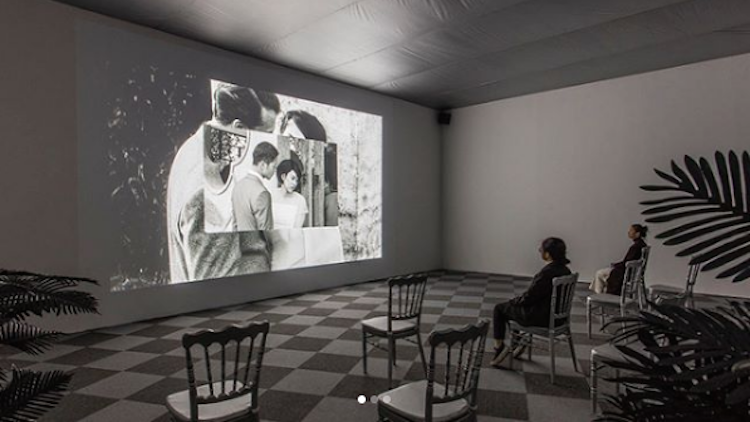 28. Shanghai Center of Photography (SCoP)
The only one of Shanghai's big art museums solely dedicated to photography, SCoP displays some of the world's most iconic photographic works.
29. Power Station of Art
China's first state run contemporary art musuem Power Station of Art – set in a former power station – hosts some of the city's biggest art shows in spectacular surrounds.
30. Yuz Museum
Yuz Museum from contemporary art collector Budi Tek sits inside an old aricraft hangar and is one of the city's most impressive art spaces.
31. Shanghai Natural History Museum
The Shanghai Natural History Museum is for all ages, with an impressive collection of artefacts from around the world and a 4D cinema. Plus, its bioclimatic building works with nature to control the conditioning indoors.
32. Shanghai Urban Planning Exhibition Hall
When it gets too hot or too wet to explore Shanghai for real, experience it in miniature at the Shanghai Urban Planning Museum dedicated entirely to the city's modernisation and urban development (complete with architectural scale models).
After the museums you can…
33. Brave New Star spa's 'ice room'
As well as boasting large baths at a range of temperatures, Korean bathhouse New Star's Tianshan Lu outpost also has a small igloo-like ice room with thermometers reading -10 degrees Celsius. While we're not convinced by the temperature reading, the ice room has a nice chill that'll cool you down quickly enough. There's also a cinema, a nail salon, a large restaurant and more indoor entertainment to keep you busy.
34. Catch all the World Cup matches with a cold beer or cocktail at any number of air-conditioned bars.
35. Keep fit for free at Shanghai exercise club FitFam's HIIT bodyweight and conditioning sessions (follow FitFamShanghai on WeChat for the class schedule).
36. Feel the ocean breeze and pysch yourself up for some beach volleyball at Jinshan City Beach.
37. Work the rink at All Star Skating Club – Shanghai's biggest and arguably best indoor ice skating rink at the Mercedes-Benz Arena.
38. Drop 6RMB on Lawsons soft-serve ice cream cone at any hour of the day or night.
39. Explore the old abattoir
Get yourself to 1933 Old Millfun. Not only is this massive former slaughterhouse, with its maze of cattle ramps, a gorgeous piece of Art Deco architecture, its thick concrete walls help to keep it cool.
Take a tour of Shanghai's best cheap iced coffees

40. Iced latte. 8RMB, Lawsons.
41. Iced Brulee or Iced Caramel Latte. 14RMB, 7-Eleven.
42. Iced Americano. 15RMB, Wheely's Coffee.
43. McCafe Iced Americano. 17RMB, McDonald's
44. Coffee Chocolate Frappe. 14RMB, Family Mart.
45. Iced Americano. 12RMB, 42coffee.
Shelter yourself from the elements in a very big mall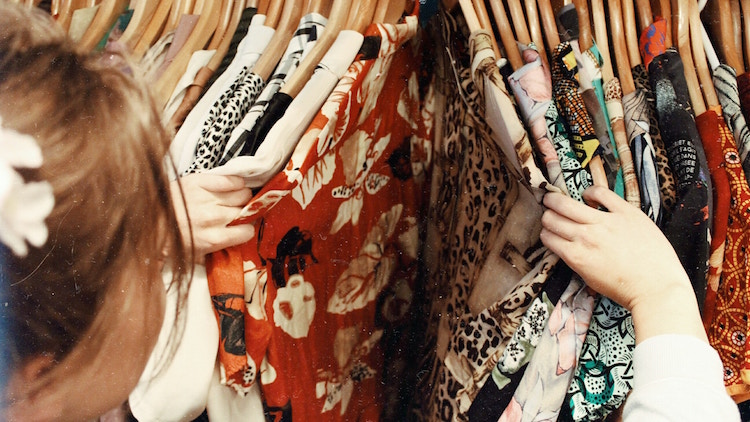 Photograph: Becca McHaffie via Unsplash
46. K11 Art Mall
This Hong Kong-import houses high-end stores and enough restaurants to satisfy any craving. But the most impressive thing here is the art. As well as housing the chi K11 Art Space, the mall exhibits the works of local and international artists at every turn.
47. IAPM
A luxury one-stop shop with an endless list of fashion labels – plus H&M and Mango. iAPM also has eateries for all budgets, a City Super and a swanky IMAX cinema.
48. Cloud Nine
Cloud Nine is a massive mall of the people with a huge range of shops, food and entertainment for all budgets and ages (plus a Carrefour). It's also right near the Raffles City Changning shopping haven.
49. Super Brand Mall
International brands and restaurants abound at Super Brand Mall, a super-sized 12-storey mall in Lujiazui.
And then…
50. Have your commute interrupted by old folks flocking to metro stations for the free air conditioning.
51. Say 'fuck it' and make like you're in the Amazon at Chenshan Botanical Gardens' greenhouse – if you're sweating anyway, the incredible array of rare tropical plants are well worth working up a little extra sweat over.
52. Crank up the AC and hole up at home with your two essential apps: Sherpa's and BottlesXO.
Photograph: Karen Yang courtesy Charlie's
53. Sink your teeth into a PB & chocolate ice cream burger with bacon (30RMB) at Charlie's.
54. Rock a pair of 'Hunter' rain boots from the AP Plaza fake market.
55. Splash your cash on an afternoon tea party on board The Peninsula Shanghai's yacht.
Eat these great summer dishes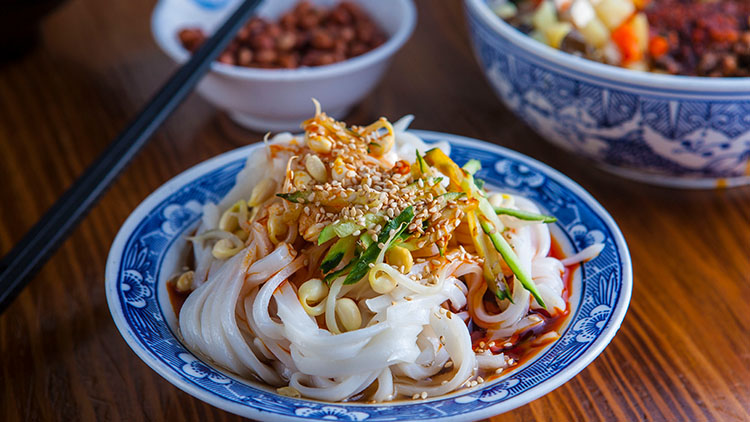 Photograph: Yang Xiaozhe (Liangpi)
56. Smoked Lobster Ceviche at Raw Eatery and Wood Grill.
57. Koushuiji (口水鸡) at Di Shui Dong.
58. Spicy Beef and Puffed Rice Roll-ups at Ginger.
59. Bellagio Breeze shaved ice tower at Bellagio.
60. Liangpi at Zhu Que Men.
61. Bangin' Banh Mi at Spread the Bagel.
62. Nikkei Sensation bowl at ban ban by Sproutworks.
63. Lemon Chiffon Cake at Highline.
64. Summer Berry Cake at Pâte.
65. Sea of Dreams poke bowl at Little Catch Cafe.