Current Location:
This Article
Wine…so hot right now. Naturals, classics, Old World and New – it feels like we've seen and sipped them all in Shanghai lately. Cocktails usually dominate the conversation when it comes to the city's drinking culture, but over the past 12 months a load of wine bars (and wine-focused restaurants) have popped up to showcase what the grape can do. Here's eight in Shanghai worth raising a glass at.
Cellar to Table
Let's be real sipping on fancy wine can get pretty expensive, but it doesn't have to. Look to Cellar to Table as proof, where the cheapest glass will set you back as little as 40RMB and a bottle 230RMB. While affordable prices are a big draw, the wine list is extensive and deserves to be explored with tons of New and Old World pours, including a impressive selection from Burgundy. The seating inside is super intimate but when the weather's right, you'll want to take your tipples out to the patio that's made for merrily drinking a summer's day away.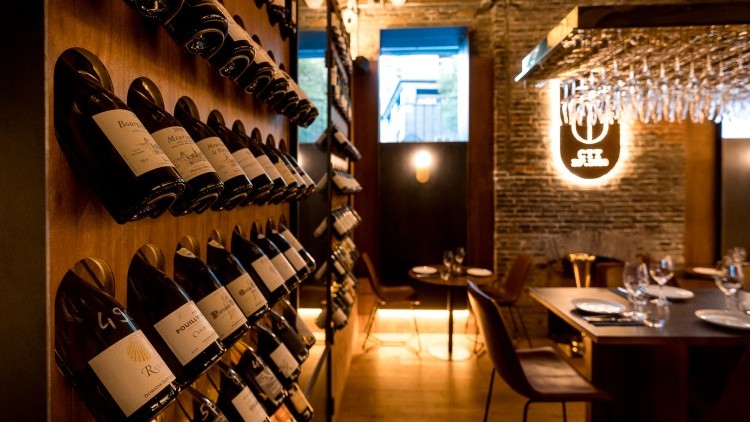 Pudao Wines (Shankang Li)
Picking the perfect bottle of wine can be a tricky process, but when you have around 1,000 bottles to choose from you'll be hard-pressed not to find something that pleases your palete – like at Pudao Wines' second location in Shankang Li. While there's the obvious wealth of options to take home, from big names to little knowns, it's worth sticking around from 5.30-8.30pm daily when a selection (32 in total) of pours by the glass are half price. Perch on one of the stools that look out onto the busy courtyard for classy vibes, discounted drinking and people watching rolled into one well-spent evening.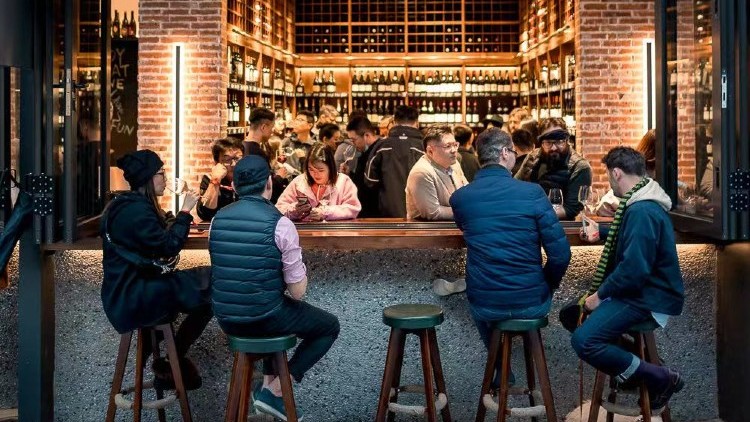 Dosage
A small neighbourhood bakery by day, by night Dosage shifts its focus to wines with lesser-known pours from China and beyond. There's a page of offerings by the glass (ranging from 58-78RMB) that highlight rarer conventional wines from around the world plus a unique skin-contact variety from China's Ningxia region. The selection of bottles (238-728RMB) runs a few pages deeper and if you care to know the finer details of what your drinking, tastings are held a couple of times a month – check the corkboard by the front door for information on those.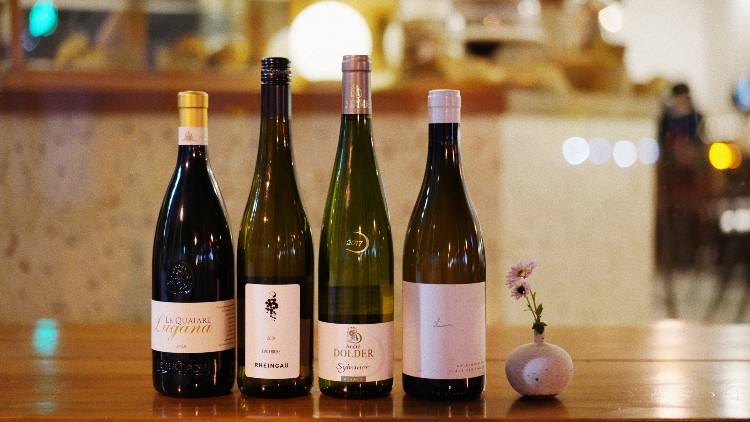 Ray's
Open on Changle Lu since March, Ray's is something of a drinking double-act: part dimly lit cocktail bar and part snug wine library with nearly 200 labels on display. The selection lining the shelves is vast, supplied by founder and distributor Ray Shen, and dominated largely by Italian grapes alongside Chinese, Slovenian and French bottles. Unsure where to start? Cast your eye straight to the bar's recommendations list or go big on one of the bottles from Chateau Hostens-Picant – one of Bordeaux's most prestigious vineyards.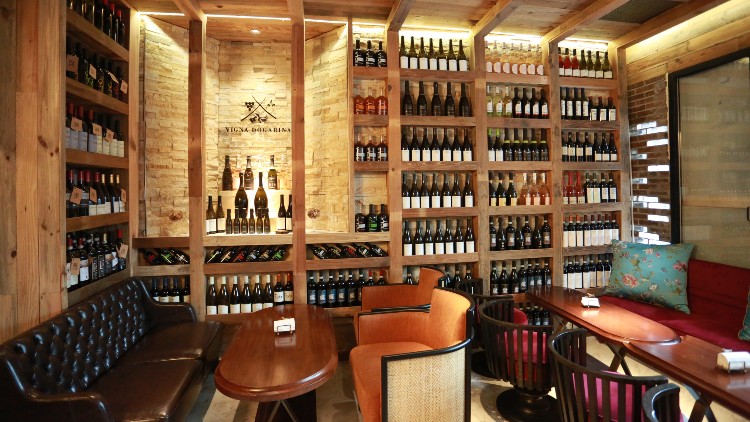 Reception
Art and wine, it's a tried-and-tested combination and one that Reception adopts with a renewed vigour. Doubling as a gallery space that hosts regular exhibitions, owner and wine taster Zoe Zhu is a big believer in the idea that art works are best taken in with a glass in hand. She's also behind the wine curation – a small mix of naturals and classics, all available by the glass that change often to keep things fresh and interesting. If the whole wine and art thing wasn't cultured enough, there's even a vinyl player out the back complete with a crate of records.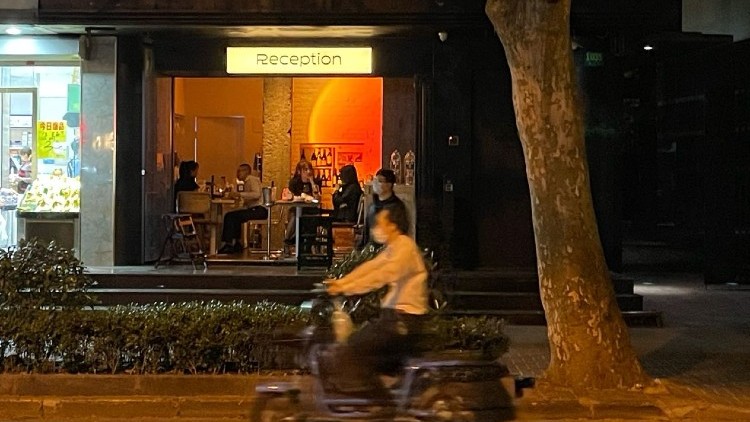 Mavis
Mavis is another establishment with its feet firmly planted in the natural wine scene, blurring the lines between bistro and wine bar. You'll find all sorts of unfiltered oranges, reds and whites in the wine room here, largely coming from Italy and France and divided into three sections – classic, easy and funky – to suit your preference. If you'd rather stick to glasses, find those on the door of cellar and match them up with the kitchen's upscale takes on traditional French cuisine. Just be aware that both menus rotate frequently, so expect a different experience each time.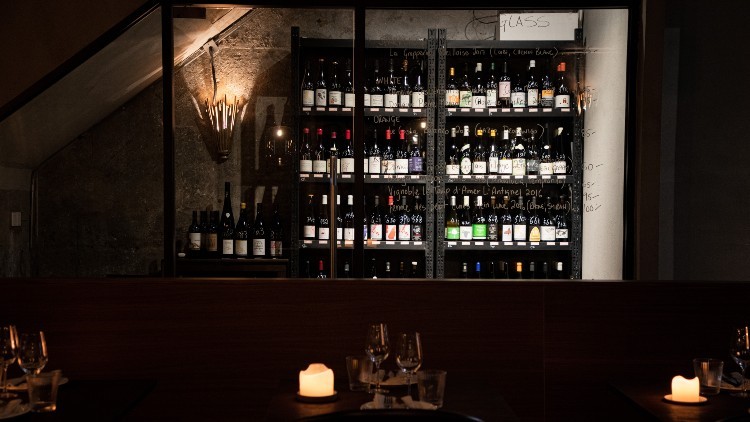 La Chance
If you've cycled past this open and welcoming bar on Shaanxi Bei Lu and wondered whether to stop in for visit, the answer is yes – if not for the wines, for the ton of personality its packs into its petite setting. Run by owner Bettina Wu, the laid-back space is all about cosying up with your crew over cold cuts, cheese boards and plenty of wine. The handwritten menu helps guide newbies by charting different flavour profiles from earthy to fruity, light to bold. If you're serious about brushing up on your wine wisdom, Wu has plans to lend her expertise to tasting sessions (details on these are still tba).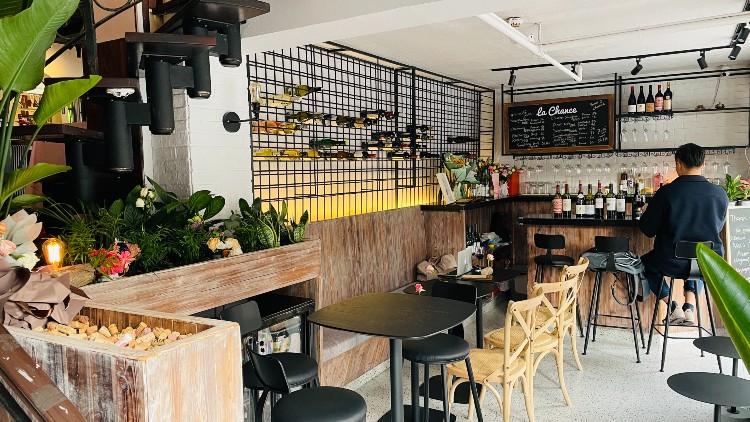 SOiF
Representing wines in weird, funky and sometimes fruity form, achingly cool natural wine bar SOiF will make you a convert to the low-intervention cause if you're not already. Inside there's a glass-walled cellar, housing over a hundred bottles from estates across the globe – some big, some small, all natural, organic or biodynamic. It's a versatile venue, so when you're not with your gang sharing a bottle, fly solo and try one or two of the 15 glass pours (starting from 78RMB) paired with its equally memorable bar snacks.