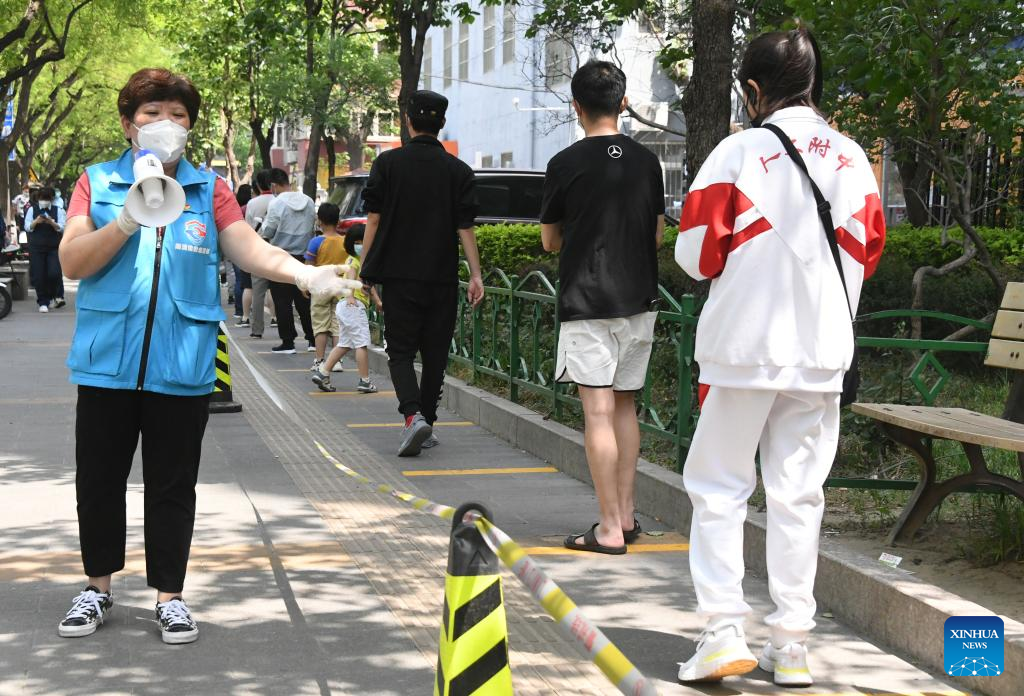 Measures have ensured normal life of residents during epidemic prevention
Communities are front lines for China to combat and bring COVID-19 under control, Liang Wannian, head of the National Health Commission's virus control expert panel, said at a news conference on Friday.
Unlike some Western countries that use medical institutions as the front line to guard against COVID-19, "more than two years of prevention and control practice in China has proven that starting prevention from the community level can contain the spread of the epidemic," he said.
"We take the community as a basic unit and divide it into closed areas, control areas and prevention areas to implement different prevention and control measures.
"Officials at community committees, medical workers at community health committees and volunteers all have helped implement the measures," he said.
Communities should mobilize the public to participate in the prevention work including publicity and education of health knowledge. Government, society, companies and individuals must all shoulder their responsibilities, he said.
"The measures have ensured the normal life of residents during the epidemic prevention and control period and more care has been given to key groups, especially the elderly, and places with dense population," he said.
However, in some places in China, prevention at the community level can be weak due to poor management abilities, which should be improved in the future, he said.
Health monitoring is a powerful means of early detection for the infected cases, he said.
"We are able to take the initiative only if the monitoring work is done and the cases are found early.
"So from the beginning, the prevention and control work by communities must be given a priority to bring risks under control as soon as possible," he said.
The processes of nucleic acid testing, epidemiological trace tracking, isolation, transportation to hospitals and treatment should be coordinated by communities. Various information from government departments should be delivered to residents in a timely manner, he said.
It is necessary to balance epidemic prevention and social and economic development. Local governments should prevent one-size-fits-all practices and should not change policies constantly, he said.
Governments should also prepare and maneuver contingency plans to deal with different scenarios and strengthen training for their workers. For example, medical and living materials should be prepared in makeshift hospitals, designated hospitals and quarantine sites as well as in neighborhoods, he said.
Wu Liangyou, deputy director of the National Health Commission's Bureau of Disease Prevention and Control, said at the news conference that China had administered about 3.35 billion doses of the COVID-19 vaccines by Thursday.
More than 1.28 billion people had already been vaccinated, accounting for about 91 percent of the nation's population. Among them, about 228 million people aged 60 and above have been vaccinated, which is about 86 percent of the age group.