Current Location:
This Article
After keeping Shanghai's art scenesters waiting in anticipation for over a year and a half, Rockbund Art Museum (RAM) has finally reopened with a dazzling retrospective of John Armleder. Titled Again, Just Again, the exhibition explores five decades of the Swiss contemporary artist's fruitful career.
Born in Geneva, Switzerland in 1948, Armelder is a man of many talents: a painter, a performance artist, a sculptor, an archivist, a collector, a curator, an editor and a gallery owner. Inspired by the Fluxus movement during the '60s and '70s, he cofounded Groupe Ecart, a publishing house, bookstore and gallery that collaborated with artists like Joseph Beuys and Andy Warhol.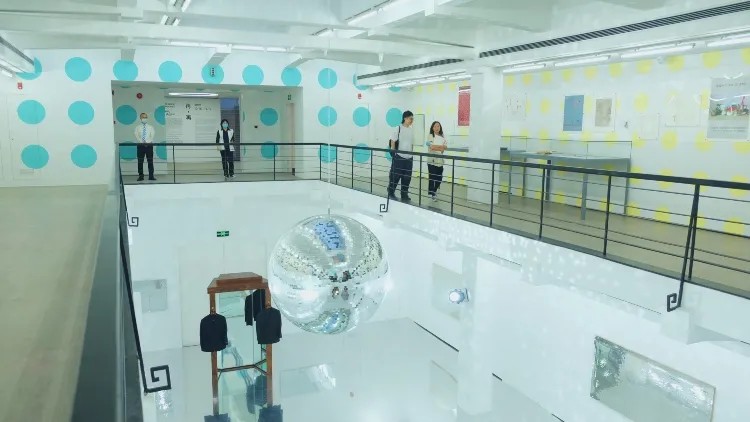 Start your tour of his wide-ranging work on the fifth floor, where an archive of posters, drawings and mundane objects from his Ecart era is on display. There's also a site-specific wall drawing tailored to RAM's architecture painted across this floor.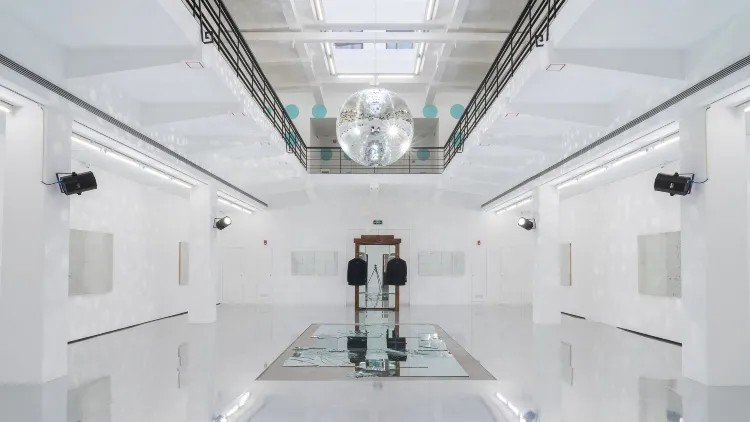 Downstairs in the fourth-floor hall, you'll be surrounded by a spectacle of light and reflections. Suspended in the centre is a giant disco ball, revolving slowly and reflecting a spotlight. Beneath the disco ball lie a few shattered mirrors. The entire floor is covered by metallic silver flooring and mosaic paintings made with reflective materials hang on the walls. At the end of the hall, you'll encounter a reconstruction of his 1988 work 'Furniture Sculpture 185 with Stéphane Armleder', in which two Brooks Brothers suits hang on a trifold mirror.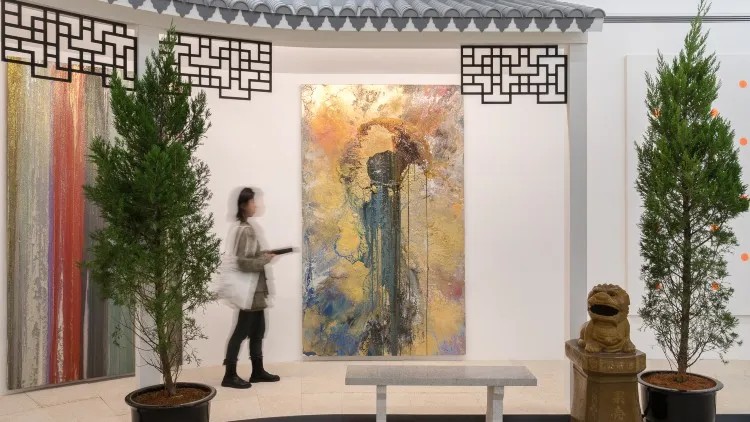 Photograph: courtesy Rockbund Art Museum
The entire third floor has been transformed into a fictional park from the '90s with curved walls, a pavilion and a fountain with a fake mountain inside – birds chirp as Armleder's paintings appear at unexpected turns. This floor is the first collaboration between the artist and Chinese fashion photographer Leslie Zhang who designed the beautiful mise-en-scene.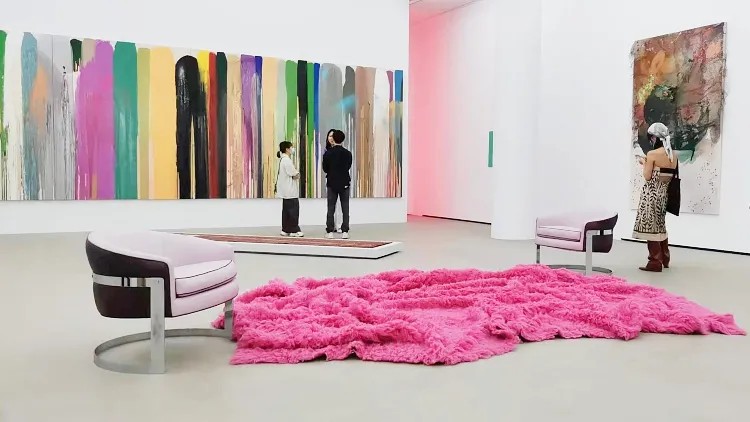 The exhibition hall on the second floor houses the show's only moving-image work. An endless kaleidoscopic pattern, the piece was filmed in the artist's hometown of Geneva during a firework show one summer. It's an epitome of how Armleder has turned chance encounters into art throughout his career.
Apart from the video work, this exhibition hall houses dozens of paintings, sculptures and readymade works that follow a Fluxus spirit, redefining what can be seen as art and some of them are quite playful (an enlarged cat tower, anyone?).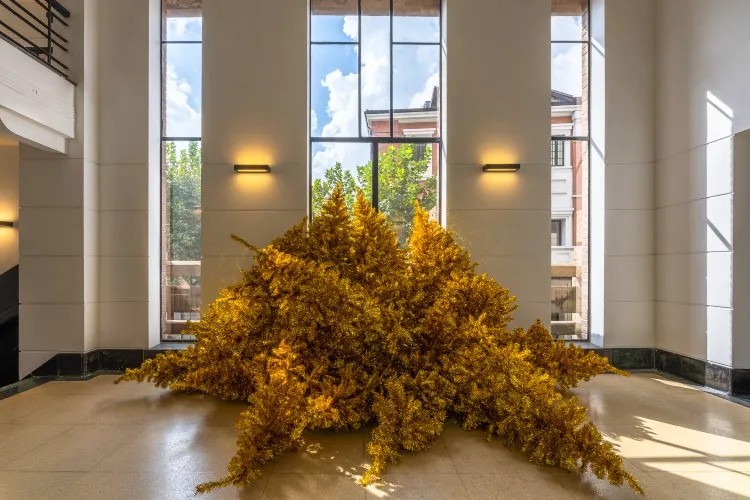 Surprises are scattered throughout the exhibition – a pile of clothes, a mound of packaging materials, a heap of artificial plants. These seemingly random displays of 'garbage', titled 'Accumulation', illustrate Armleder's penchant for capturing quotidian moments with everyday objects.
Intrigued? John Armleder: Again, Just Again is now showing at Rockbund Art Museum until Sunday 19 December.