It's not summer without pools. The good news is some of the city's beloved indoor and outdoor swimming pools are open. Whether you wish to swim a few decent rounds at local lidos or escape to quiet pools for a leisurely dip, dig out your swimwear and floaties and make a splash at these Shanghai pools.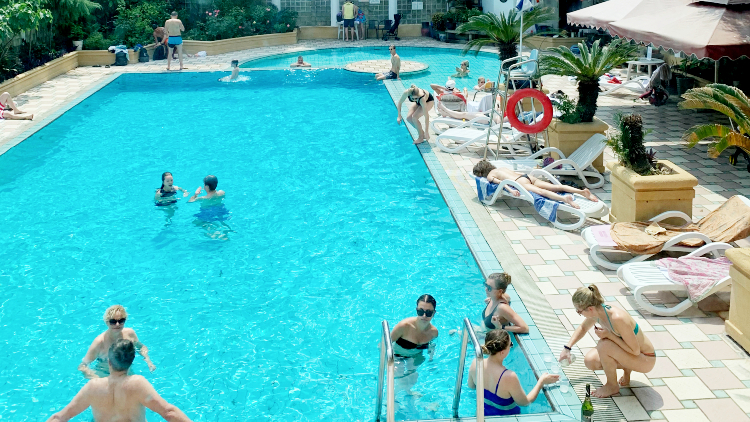 Neighbourhood pools
Grand Plaza Club House
One of the most popular outdoor pools in Old Xuhui, Grand Plaza Club House is situated inside the same compound on Julu Lu as Mexican restaurant Maya, thus known widely as the 'Maya pool'. Though it's a small swimming area with not much surrounding poolside space and packs out quickly with sun-seekers, it's hard to beat for location and convenience for many.
Opening hours 9am-9pm daily.
Entry 150RMB (Mon-Fri); 200RMB (Sat-Sun).
568 Julu Lu, near Shaanxi Nan Lu (6289 4835).
Ambassy Club (Huaihai Zhong Lu)
A one-time trial affair unless you're a member (or with one). This pair of indoor and outdoor pools are inside a private club complex that includes squash courts and a gym. The indoor pool is perfect for serious swimmers who want to do rounds without disturbances while the outdoor one is shallow, family-friendly and great for soaking up some Vitamin D. It's a lively scene with lots of kids on the weekends.
Opening hours Indoor pool: 7am-9pm (Mon-Fri); 8am-9pm (Sat-Sun). Outdoor pool: 11am-6pm (Mon-Fri); 8am-9pm (Sat-Sun).
Entry Until June 30: 150RMB; 80RMB (child). From July 1: 300RMB; 160RMB (child).
1500 Huaihai Zhong Lu, near Wulumuqi Zhong Lu (6437 9800 ext 252/238). 
Shimao Riviera Garden
Part of a posh Pudong residential complex, the Shimao Riviera Garden pool is situated inside a clubhouse which is largely used by the occupants of seven towers' worth of luxury serviced apartments. These surround the outdoor pool and so along with the general footfall through the compound, it means there's little to no privacy when swimming al fresco. However, the space itself is appealing with an enormous aquamarine pool (plus wave machine), faux-beach, deckchair area, and bar for the parents. Given it's part of a residential property, the pools fill up with kids come evenings and weekends.
Opening hours Indoor: 7am-10pm. Outdoor: tba (open from July).
Entry 200RMB; 100RMB (child under 1.5m).
Building 5, 1-2 Weifang Xi Lu, near Pucheng Lu, Pudong (6888 8108).
New Star
The original branch of New Star is one of our favourite bathhouses in the city, but it may not seem like an obvious place to head to when temperatures outside are hitting the mid-30s with a hefty dose of humidity on top. Yet hidden out the back of the main bathing area is a great outdoor swimming area with a small section for kids, a medium-sized pool for adults and a handful of sun loungers on the side. It's not the biggest outdoor pool in the city, but rarely is it overcrowded. On that note, New Star Pudong also has a pretty big pool if you want to escape the crowd.
Opening hours Jinhui 9am-6pm (until August 31); Pudong 10am-8pm (until August 31).
Entry 118RMB (includes bath, sauna and access to the pools).
New Star (Jinhui), Lane 258, 1 Jinhui Nan Lu, near Hongquan Lu (5838 7771). 
New Star (Pudong), 288 Dongxiu Lu, near Meihua Lu. 
Photograph: courtesy Playa Maya
Water parks
Playa Maya
Near Happy Valley theme park, this huge waterpark sprawls across 200,000sqm and has all the classics for a summer splash about, from chutes and rafts for adrenaline junkies to more chilled wave pools and bathing areas. There's also a 'third phase' slated to open this year (date tba) featuring a water slide fitted with special visuals and sound effects.
Opening hours 10am-6pm. All visitors need to register at least one day in advance (follow 'playamayash' on WeChat to book).
Entry 249RMB (adults); 150RMB (early-bird used until July 2).
888 Linhu Lu, near Linyin Dadao, Songjiang district (3355 2222).
Sun Island Resort
Channeling beach resort vibes but without the flight to Sanya, Sun Island is home to a hotel and a 2,400sqm water park with a faux sandy beach, palm trees, pools (the main pool generates artificial waves every half an hour) and slides. Expect it to get crowded during peak hours and get there early if you're looking to steer clear of the masses.
Opening hours 9am-4.30pm (Mon-Thu); 9am-6.30pm (Fri-Sun).
Entry 59RMB (adults); 39RMB (child).
2588 Shentai Lu, near Shenzhuan Lu, Qingpu district (6186 9688).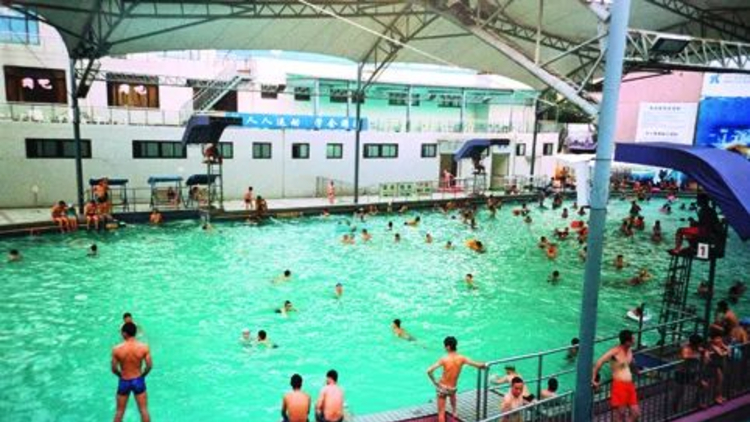 Public pools
Jingan Sports Center
A thoroughly utilitarian sort of pool, the 25 x 50m nine-lane pool is designed for competitive swimming, and while not everyone uses it for this, it's a good place to get some lengths in.
Opening hours 1-9pm (Mon-Fri); 9am-9pm (Sat-Sun).
Entry 45RMB; 20RMB (child under 1.3m). 90 minutes per session.
151 Kangding Lu, near Jiangning Lu (3636 3536). 
Hongkou Swimming Pool
Established in 1974, this pool spans 1,050sqm with a standard outdoor swimming pool and a small kids' pool with deck chairs and umbrellas. It's a popular swimming school for locals, so expect children learning to swim.
Opening hours 3-5pm, 7-8.30pm daily.
Entry 40RMB. Swimming caps mandatory.
500 Dongjiangwan Lu, near Dongtiyuhui Lu, Hongkou district.
Luxe pools
Sofitel Shanghai Sheshan Oriental
It's hard to overstate the luxe (and fun!) factor here. It's 4,400sqm of crystal-blue swimming territory with outside pools surrounded by a man-made sandy beach, rows of loungers, bars, palm trees and faux-Mediterranean architecture. It's a little bit of a journey from the centre of town but is walkable from Sheshan station on Line 9 and not being downtown only helps to add to its retreat vibes.
Opening hours Indoor pool: 7am-10pm. Outdoor pool: 9am-7pm.
Entry 300RMB per person.
3388 Sichen Gong Lu, near Jiasong Nan Lu (3761 8888).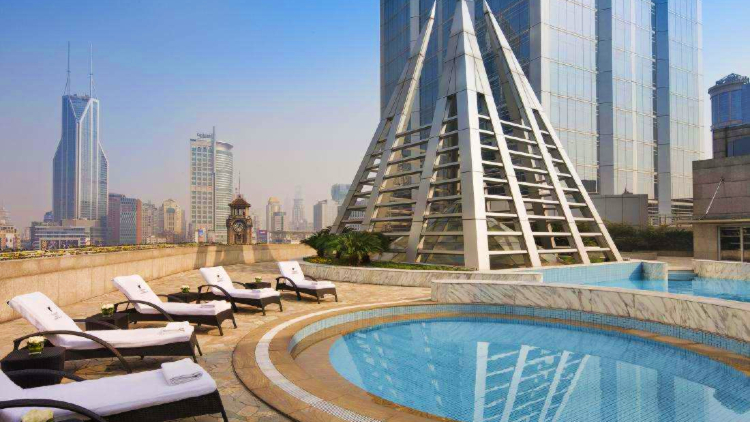 JW Marriott Shanghai Tomorrow Square 
Perched on the top of the 60th floor above downtown Puxi, JW Marriott Shanghai Tomorrow Square's two outdoor circle pools overlook the heart of Shanghai's commercial and shopping district, reaching as far as The Bund. Neither of the pools are heated, so they're best saved for a sweltering summer afternoon.
Opening hours Indoor: 8.30am-9pm. Outdoor: tba.
Entry 288RMB; 188RMB (child).
399 Nanjing Xi Lu, near Huangpi Bei Lu (5359 4969).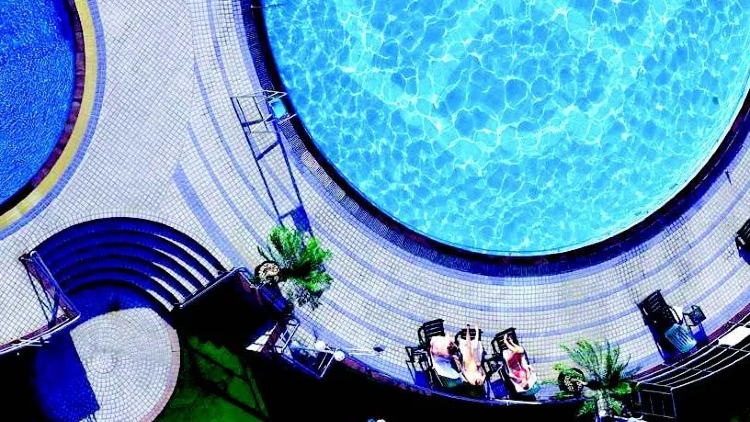 Purple Mountain Hotel
Set in a nondescript part of Pudong somewhere between Lujiazui and Century Park, this excellent rooftop pool often flies under most people's radars when the sun comes out. There are two pools – one for adults and one for kids (the latter is half the depth of the former, at 1.5 metres) – and views across the eastern side of the city from the fifth-floor terrace they sit on.
Opening hours 10am-10pm (open from July).
Entry 200RMB.
778 Dongfang Lu, near Zhangyang Lu, Pudong (6886 8888).   
W Shanghai – The Bund
The North Bund luxury hotel W Shanghai's outdoor pool is the place to see and be seen: it's got a stunning view of the Lujiazui skyline, topped off with mosaic flower pool tiles, stylish sunbeds and a sleek poolside bar. The indoor pool is equally as Moments-worthy, set under a red glass roof and surrounded by floor-to-ceiling windows that offer a panoramic view of the river.
Opening hours Outdoor pool: 10am-6pm daily. Indoor pool: 6am-10pm daily.
Entry Mon-Thu: 480RMB; 280RMB (child). Fri-Sun: 580RMB; 380RMB (child).
Fourth Floor, W Shanghai – The Bund, 66 Lvshun Lu, near Dongchangzhi Lu (2286 9999).