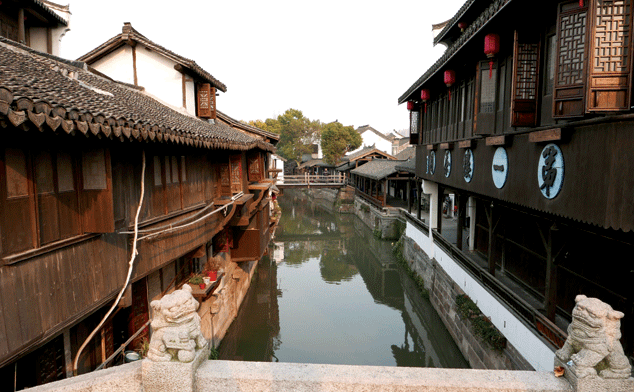 Pudong covers a vast area, but thankfully so does the Shanghai metro, and when considering day trips out of the city, you needn't always look to the gaotie. In fact, before you even reach the end of Line 16, you'll find Xinchang Ancient Town, a vibrant tangle of alleys, bridges and teahouses twirling around the town's four rivers.
Although we may not be the first to discover this charming water town – you may recognise the backdrop from scenes in Ang Lee's film Lust, Caution – we felt a world away from the hordes of tourists that often overrun the likes of Zhujiajiao and Zhouzhuang. The few visitors who do venture here enter the water town via Hongxi Lu. From here, you can stroll the interlacing lanes, carved stone-arch bridges and old wooden architecture of around 100 conserved courtyard-style houses from the Ming and Qing dynasties that provide glimpses of a time when Pudong was merely a string of individual villages.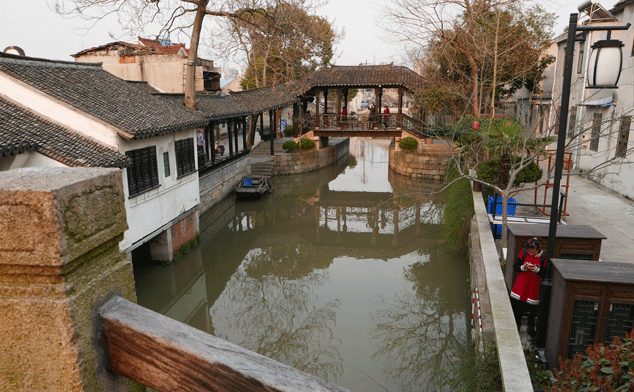 If you're peckish, sample offerings from street vendors, touting the likes of fried tofu, sticky red bean cakes, and huge baskets of steaming shaomai. Those with tired legs might prefer a stop at 14 Hongxi Lu, a quaint little store run by an affable Dongbei lady, for a plate of freshboiled dumplings and a seat.
In the centre of the town, you'll find the No. 1 Teahouse (look out for pictures of Lust, Caution in the window). A plaque outside this iconic spot states that the shop, originally built as a bungalow, dates back to the years of Emperor Tongzhi in the Qing dynasty, and was rebuilt during the reign of Emperor Xuantong. Now beautifully renovated, it's a peaceful and pleasant place to recharge over a pot of tea.
Towards the end of June, Xinchang is brimming with beautifully fresh and ripe peaches. In the meantime, from early April and throughout most of May, the town hosts a Peach Blossom Festival (that runs from 9am-4pm at 30RMB per ticket – exact dates not yet confirmed). Tourism is obviously doing good things for this area, but it doesn't yet feel too commercialised (except for perhaps one store selling crêpes, and the growing number of coffee shops popping up around town). If you go during the week, you'll experience quieter streets while participating in the daily life of Xinchang's locals. Enjoy it while you can.
How to get there 
Take Line 16 to Xinchang (a pleasant 45-minute, mostly above ground metro ride from Century Avenue via Longyang Lu). Heading out of the second exit, grab a cab (a five-minute ride) or jump on the bus that goes to Xinchang Ancient Town for 1RMB (have the town's name in Chinese characters handy and check with the bus conductor if you're unsure). Hop off after three stops (again, the conductor can help you here), cross the road and before arriving at the bridge, head through the stone gate and down Hongxi Lu.