Current Location:
This Article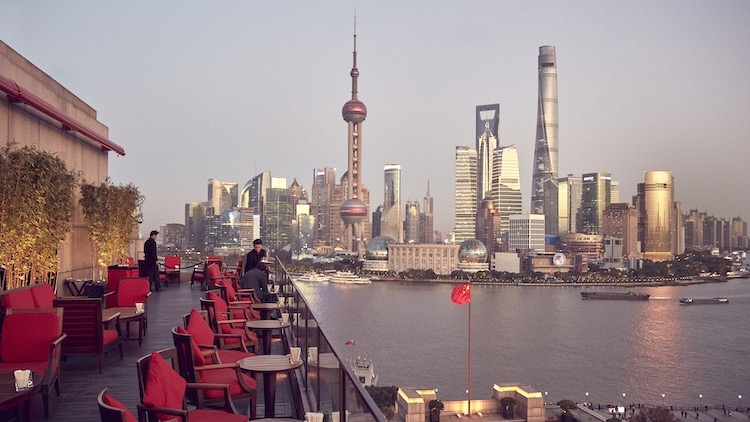 There's just something about this city that makes it so much more enjoyable viewed from up high, sipping on something swanky – it's probably the iconic skyline, big city lights and world-class cocktails. Whether you're after something bold and in your face or quiet and out the way, the sky's the limit. Here are the best rooftop bars in the city to get grand from above.
Bar Rouge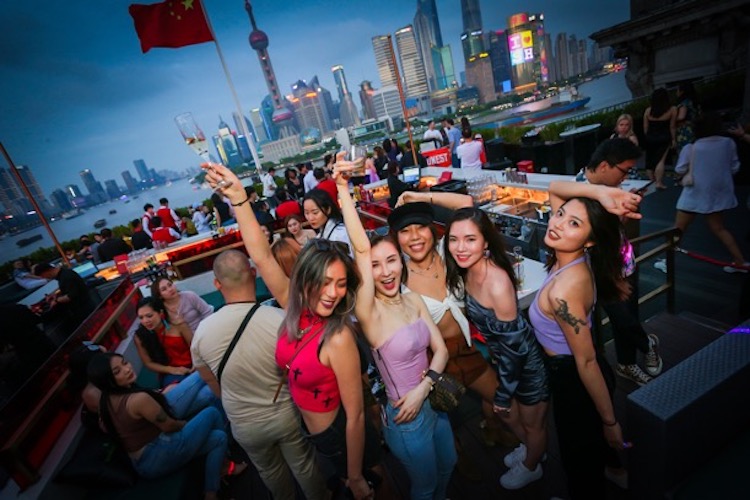 A Bund-side mainstay, it would be impossible to write about drinks with a view in Shanghai without including Bar Rouge. The large terrace is a great spot to go and check out the Lujiazui skyline while sipping champagne with Shanghai's high rollers.
Bar Rouge Seventh Floor, 18 Zhongshan Dong Yi Lu, near Nanjing Dong Lu.
Beverly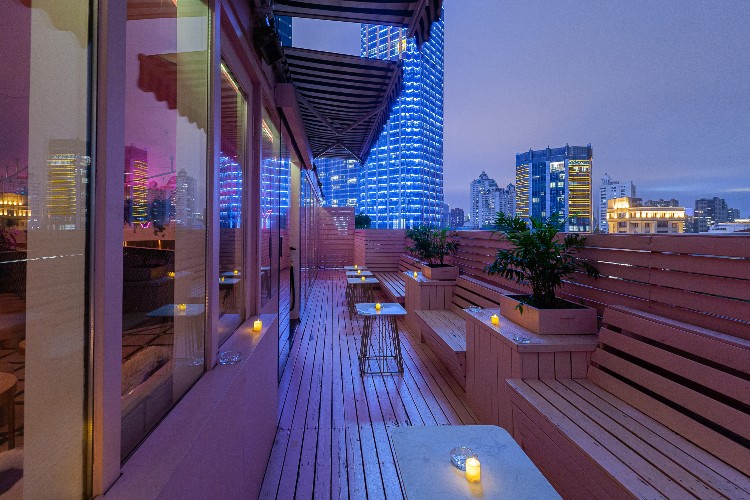 Glowing bright pink, Le Baron's little sister Beverly (set just above the swanky nightclub and run by the same team) has a dreamy terrace overlooking the surrounding Xuhui neighbourhood. Tucked away from noise downstairs, the outdoor space here lends itself to more relaxed, intimate nights out with decent drinks (70-100RMB) – don't sleep on the Strawberry Pina Colada – and a funky playlist loaded with likes of New York hip-hop group ESG and Brit rockers The Slits.
Beverly 20 Donghu Lu, near Huaihai Zhong Lu.
The Captain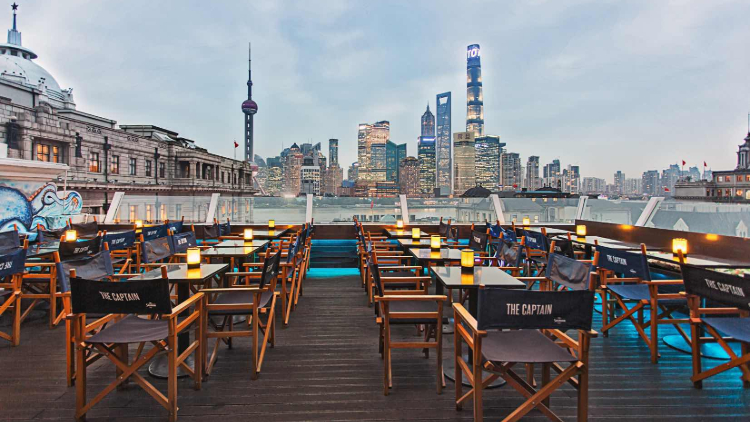 A cheaper alternative to most of the Bund-side bars on this list set atop the Captain Hostel on Fuzhou Lu, The Captain's terrace packs out on warm evenings for its fabulous view over Lujiazui. Expect chill vibes, well-executed cocktails (from 68RMB) and unfussy eats in dapper nautical settings – plus blankets and heaters during cooler months.
The Captain Fifth Floor, Captain's Hostel, 37 Fuzhou Lu, near Sichuan Zhong Lu.
CHAR Bar
Catch the city skyline from an alternative angle at Hotel Indigo's CHAR Bar, where the real lure is the magnificent view facing north over both sides of the Huangpu River. Perched on the 30th floor, the terrace is great for dates where you want to make a real impression – particularly when paired with a steak dinner at the grill restaurant. Take advantage of seats that literally get front-row views (right beside the bar's barrier) for those unimpeded sunset shots.
CHAR Bar 30th Floor, Hotel Indigo, 585 Zhongshan Dong Er Lu, near Dongmen Lu.
THE CUT Rooftop
A popular spot with the post-work crowd – at least in part thanks to its 5-8pm happy hour and convenient location up on the iapm Mall's seventh floor – THE CUT Rooftop's cool and comfortable terrace overlooks Xiangyang Park set against a backdrop of Jingan's skyscrapers.
THE CUT Rooftop Seventh Floor, iapm, 999 Huaihai Zhong Lu, near Shaanxi Nan Lu.
The Fellas
The Fellas at first looks like another swanky Bund-side terrace bar, but pretentiousness is cast aside in the name of good drinks, decent food and a laid-back atmosphere.
The Fellas Seventh Floor, 7 Yanan Dong Lu, near Zhongshan Dong Yi Lu.
Flair
Yes it may be a tad touristy and pricey but no one can deny the outrageous views from Flair's swanky terrace on the 58th floor of The Ritz-Carlton Shanghai, Pudong. It's the highest rooftop bar in Shanghai with a vista that stretches dramatically out over The Bund and across the vast reaches of Puxi. It's arguably a Shanghai must for watching the city's transition from day into night – though be warned, it's also a popular spot with Instagrammers looking to get all close and personal with the Pearl Tower only a short distance away.
Flair 58th Floor, Ritz-Carlton Pudong, 8 Century Avenue, near Lujiazui Ring Road, Pudong.
Highline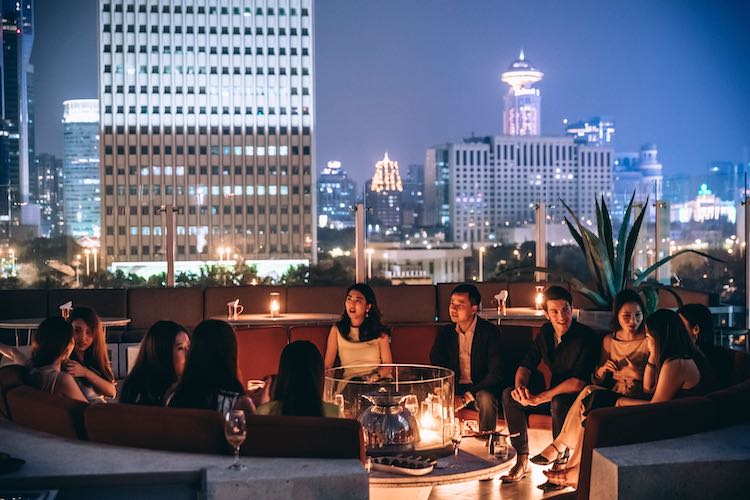 The slick rooftop at Highline is all about California cool with its broad wrap-around terrace giving way to a sweeping scene of Huaihai Zhong Lu. The deck is kitted out with white marble tables, lounge chairs and palm trees – a strong look for showy celebrations like a flashed-up birthday. Food and drink stay on theme via seasonal cocktails and all-day-and-night brunch. Plus, on Wednesdays there's free-flow fried chicken with unlimited sides (188RMB) and two hours of bottomless highballs (add 100RMB).
Highline Sixth Floor, The Ascott, 282 Huaihai Zhong Lu, near Songshan Lu.
Kartel
Head on up to the fifth floor of this somewhat unremarkable building on the corner of Xiangyang and Julu Lus and you'll be met with Kartel's expansive terrace, its host of seats overlooking both Old Xuhui and the lights of Jingan. It offers a solid happy hour (35RMB on select drinks from 6-8pm) and is part-covered making it a safe bet come winter months.
Kartel Fifth Floor, 1 Xiangyang lu, near Julu Lu.
LAGO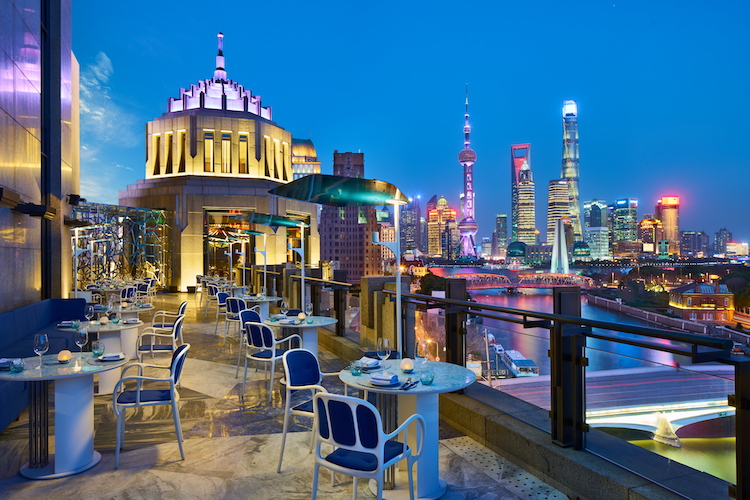 Channel all the glittering excess from The Strip at Italian restaurant and bar LAGO in the Las Vegas-famed Bellagio Hotel. Like the rest of the space, the long and narrow terrace is over the top in all the best ways (lined with marble flooring) and is a savvy destination for a luxurious but secluded drink with a view that looks up and down the Suzhou River and the entire Lujiazui skyline to the east. As for drinks, go for Bellagio classics like The Cable Car (98RMB).
LAGO Sixth Floor, Bellagio Hotel, 188 Bei Suzhou Lu, near Sichuan Bei Lu.
La Terrazza
Much like all its Bund-side neighbours, La Terrazza at the Bvlgari Hotel Shanghai boasts incredible views across Shanghai's skyline (but this one is probably the closest you'll get to replicating the Lujiazui shot in Skyfall's famous Shanghai montage). Thanks to the hotel's off-beat location on the banks of Suzhou Creek, La Terrazza rarely gets overcrowded making it a safe bet for low-key occasions when you're still feeling splashy. Italian elegance is the idea here and the space is decked out with mood setters like candle-lit lanterns and ivory-cushioned armchairs. The drinks carry the same high-class vibes with the likes of The Pink Lady (120RMB) – a blend of Beluga vodka, red dragon fruit and egg white that gets a slight kick from Sichuan peppercorn syrup.
La Terrazza 48th Floor, Bvlgari Hotel Shanghai, 33 Henan Bei Lu, near Tiantong Lu.
POP Bar
Catching inspiration from Miami, POP pairs The Bund view with South Beach vibes. Nestled on the seventh floor of Three on the Bund, the mood here is loungey in both makeup and music making it a solid hangout for chilled get-togethers as the sun goes down. For something less boozy, swap out your evening cocktails for the daily afternoon tea (from 2-5pm).
POP Bar Seventh Floor, 17 Guangdong Lu, near Zhongshan Dong Yi Lu.
Pudao Wines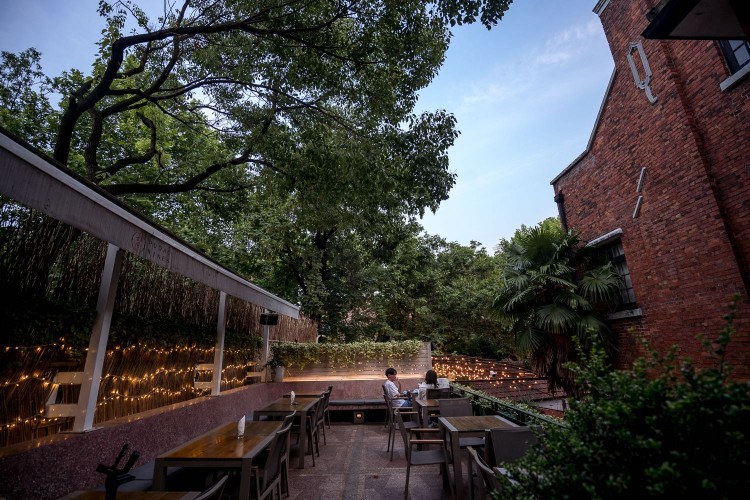 The charming patio at Ferguson Lane wine bar Pudao is a great hangout for those looking to step off the beaten Bund-view path. Low-key with strings of fairy lights and a long wine list setting the tone, it's solid for a laidback Sunday afternoon session. Keep an eye out for the themed wine tastings to sample some top wines from across the globe.
Pudao Wines Bldg 102, 376 Wukang Lu, Ferguson Lane, near Taian Lu.
ROOF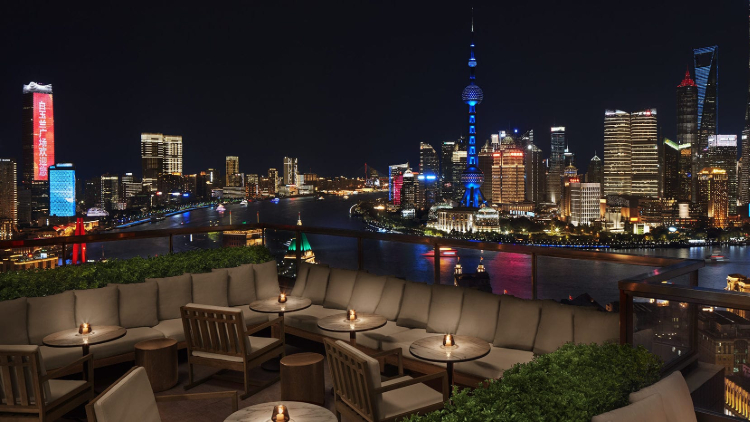 Lean into your bougiest self on the 29th floor of The Shanghai EDITION where – after you've made your way through ROOF's ivy-lined passageway – you'll be greeted with a postcard view of Pudong's skyline and The Bund below. Make peace with your wallet and splash out on signature cocktails like the ginger-infused Sunset Mule with lime sherbet and passion fruit (148RMB).
ROOF 29th Floor, The Shanghai EDITION, 199 Nanjing Dong Lu, near Henan Lu.
Roosevelt Sky Bar
Oozing grandeur and moneyed-living with its open-air deck, day beds, plush sofas and so on, The House of Roosevelt's Bund-side sky bar takes its name from the former US presidents (Theodore and Franklin). It's great for a spot of luxe day drinking with champagne corks popping and reliable house cocktails like the gin-based Bund Secret (108RMB).
Roosevelt Sky Bar Ninth Floor, The House of Roosevelt, 27 Zhongshan Dong Yi Lu, near Beijing Dong Lu.
RuiKu
Another on the long list of plush Bund rooftops, RuiKu at the Wanda Reign sticks to the formula, ticking all the key boxes: glamour, extravagance and panoramic views from the 21st floor. As a champagne lounge, that's what you will want to be sipping on here. The terrace's decent size also makes it a popular spot for parties over the summer months.
RuiKu 21st Floor, Wanda Reign on the Bund, 538 Zhongshan Dong Er Lu, near Longtan Lu.
Sir Elly's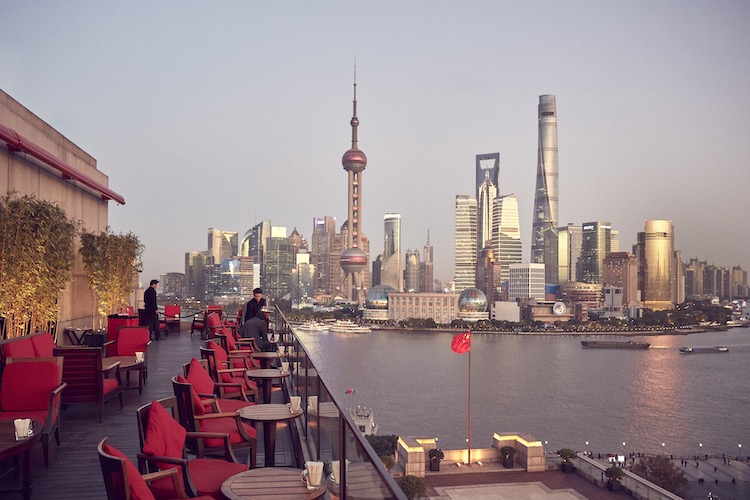 Dripping with 1920s luxury on the 13th floor of The Peninsula Shanghai, Sir Elly's is definitely up there for starry-eyed gazing at the Shanghai skyline. It's well located on The Bund so the view looks right out onto Pudong's most iconic buildings. Looking to go all out? Pair the 270-degree views and glitzy cocktails with one-Michelin starred French cuisine from the restaurant one floor below.
Sir Elly's Terrace 14th Floor, The Peninsula Shanghai, 32 Zhongshan Dong Yi Lu, near Beijing Dong Lu.
Terrace 8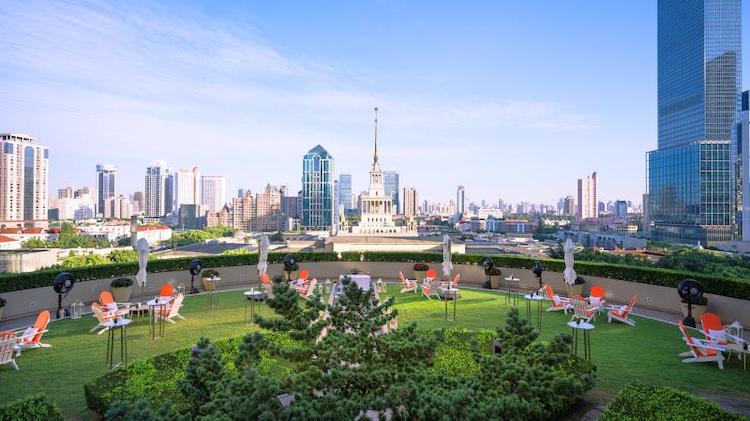 Previously only accessible to a select few and hotel guests, the roof at Terrace 8 is now open to all featuring expansive views over Nanjing Xi Lu and beyond. Sitting pretty on the eighth floor of The Portman Ritz-Carlton, the area is decked out like a giant backyard furnished with patio chairs and umbrellas. The big hook here though is five hours of free-flow Moët, wine and beer for 688RMB per person.
Terrace 8 Eighth Floor, The Portman Ritz-Carlton, Shanghai Centre, 1376 Nanjing Xi Lu, near Xikang Lu.
TOPS at The Banyan Tree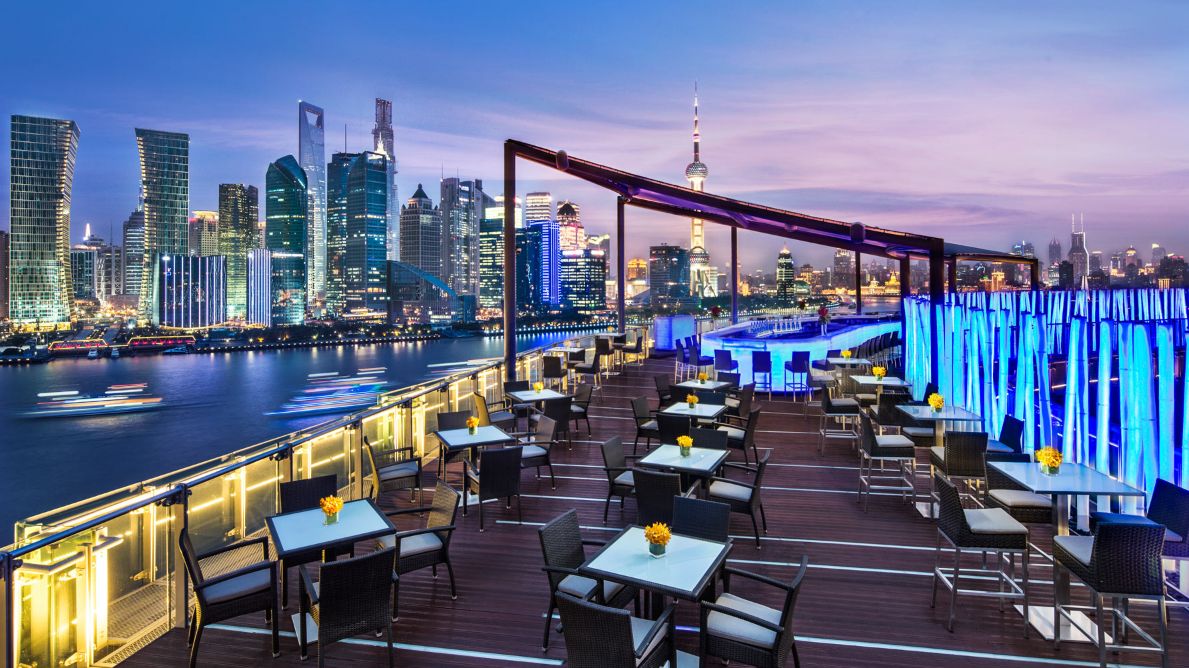 This glamourous rooftop bar atop the Banyan Tree hotel has one of the most impressive vistas in Shanghai, with 180-degree views up and down the Huangpu River and over The Bund. Despite the sometimes patchy service, it's the perfect location to watch the sun go down over Shanghai.
TOPS 13th Floor, Banyan Tree Shanghai on the Bund, 19 Gongping Lu, near Haiping Lu.
VUE Bar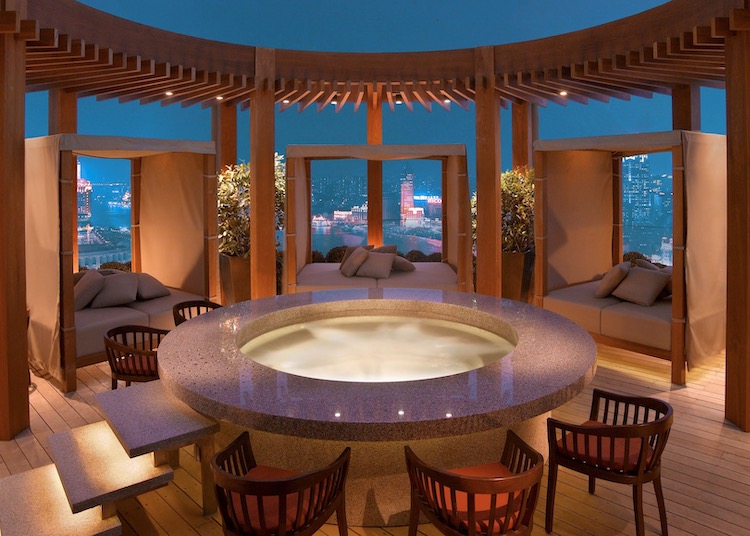 Another popular place to take visitors for a sky-high drink is Hyatt on the Bund's VUE Bar. Just north of Suzhou Creek, the view from the 32nd and 33rd floors is breathtaking. On the top level, they have an open-air terrace with daybeds surrounding a Jacuzzi. While the outdoor area and window seats get busy as the evening rolls on, VUE Bar currently opens at 3pm on Saturdays and Sundays, and is generally a little quieter around this time.
VUE Bar 32nd-33rd Floors, Hyatt on the Bund, 199 Huangpu Lu, near Wuchang Lu.