Current Location:
This Article
While there's never a bad time to order a martini and a frozen margarita is a something of cure-all on a hot summer's day, if you're looking to spice up your life, why not start with the drink in your hand? From a Sichuan pepper-sprinkled summer cocktail to an ancho chilli old fashioned, here's eight fiery sips that'll add a kick to your next night out.
Spice Gulf Stream at Kaisha
This fruity, crystal-blue cocktail at Kaisha channels poolside, beach resort vibes – but don't be fooled by its innocent exterior. It'll have you raring to go just as much as it will relax you. Sweet notes radiate from its pineapple juice and peach liqueur base, but those are offset by the kick it gets from a dash of firewater bitters and a sprinkling of Sichuan pepper on top. 98RMB.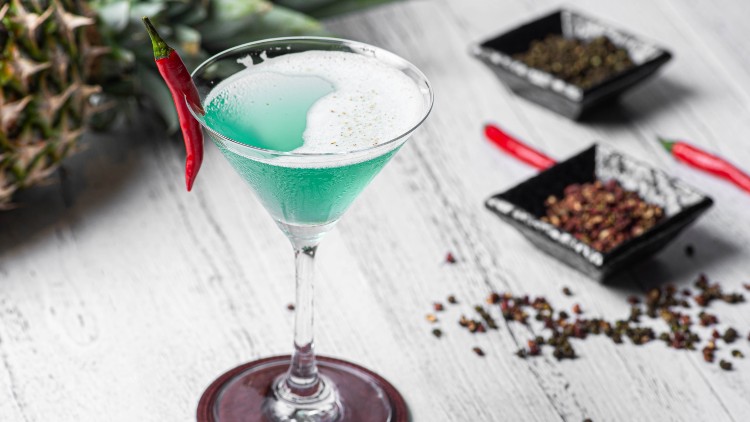 Tom Yum Colada at Atelier By Taste Buds
The piña colada at Atelier by Taste Buds takes a trip to Thailand with this spicy Southeast Asian twist on the creamy Puerto Rican cocktail. The drink's three key components of rum, coconut and pineapple juice are shaken up with tom yum spices to create an extra exotic sip with a hot and sour profile that'll not only remind of sunny days but keep you warm when it's cold too. 95RMB.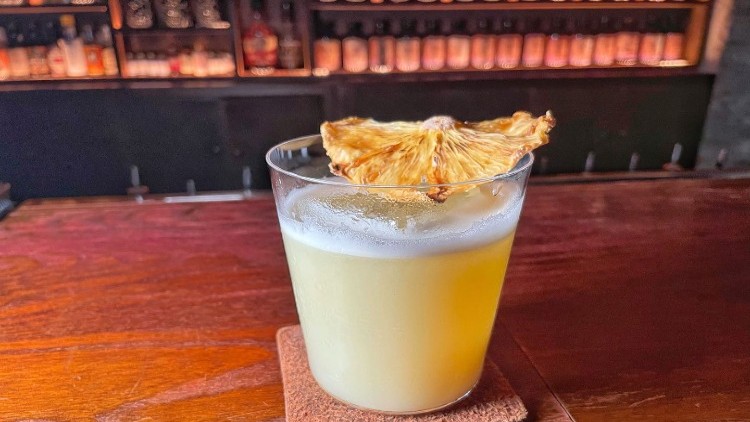 From Paloma Till Dawn at 1515 West Bar
Paying homage to From Dusk Till Dawn and served well-spiced in a tall glass – half of which is garnished in homemade chilli salt – this refreshing riff at on a paloma from 1515 West Bar's Ruslan Kaptsan pairs style with a lot of substance. The mezcal base is cooked sous vide with jalapeño, sweet peppers and mini habanero, and the tequila with beetroot. Clarified grapefruit brings a citrusy contrast and, much like the cult action flick that inspired the cocktail is very easy-viewing, this is very easy-drinking. 108RMB.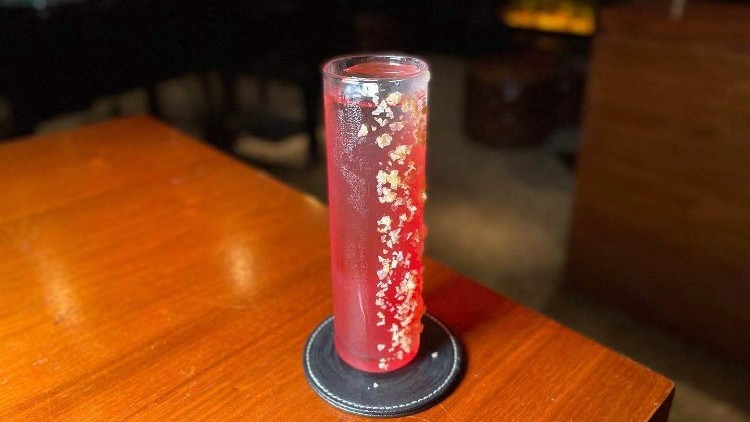 Pineapple Turbulence at Shake
If you need something to help provide a push to get you on dancefloor at Shake, this zappy creation from Colin Tait will have you shaking all the way there. It's made with Peddlers Rare Eastern Gin and starts with the holiday-evoking taste of fresh pineapple before showing off its spicy streak though honey cooked with basil and chilli – all leaving your tastebuds with an addictive tang. 98RMB.
Jalapeño Bomb at Pocho Social Club
Lime green, lethal and hidden beneath leaves (it's not a poisonous snake, but equally as deadly) Pocho Social Club's high-heat cocktail is something of a misnomer: there's no jalapeño like the name suggests, but the rest of what's inside is still the bomb. The aroma from a sprig of fresh coriander is what lures you in, before red chilli pepper and tequila take over in turning the temperature way up. It's not too hot to handle though, for which you can thank the presence of crushed cucumber and homemade passionfruit. 75RMB.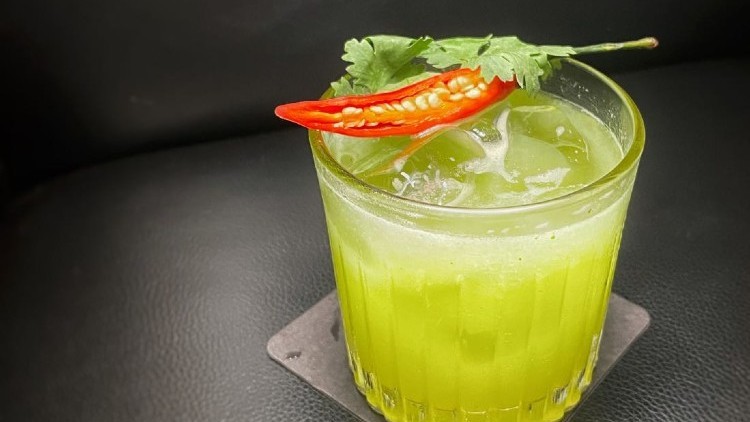 Midnight Haircut at The Drinkery
That whole chilli pepper floating inside the Midnight Haircut at The Drinkery isn't there to just look pretty – it's also an indicator to proceed with caution because you're facing down quite the fiery drink. The chilli-infused vodka will leave you a little red in the face, but the overall spice-impact is more of a drawn-out tongue tingle than straight-up burn with the soothing lime cordial and soda water combo acting as an extinguisher to the heat that steadily engulfs your insides. 48RMB.
Mayahuel's Blood at La Mezcaleria
Named after the Aztec goddess of agave and born in a bar that's star spirit is mezcal, it's no surprise that La Mezcaleria's bloody Mary rendition has been given a Mexican makeover. While its spice comes from a sangrita mix of tomato, guava, lemon and pink peppercorn, this red-hot number also has a sweet side thanks to a touch of strawberry syrup. The spice lingers but doesn't overstay its welcome – mouth-numbing in the good kinda way. 88RMB.