No matter where you are, the merry-go-round that is the world of sport never stops. While we may be a little faraway for standing in the stands and cheering on our teams IRL, Shanghai is in no short supply of places to catch the game. From Aussie bars to neighbourhood dives and classically styled British pubs, you're never too far away from a stool by the bar facing a screen with the match on. Here are your starting XI of the best sports bars in Shanghai.
Cages Bar and Sports
The lowdown: Cages is the biggest sports bar in Shanghai bar none. All seats are well placed in front of one of its 70 screens, with the biggest ones at 100 inches hanging commandingly behind the bar. Almost all sports are represented – there are instances when one screen has Italian football, another with US-Open quarter finals and another with NBA or a boxing fight. If your team is losing, get away from the action with a plethora of sport-related activities. There are batting cages dotted around the venue, a pool hall, putting simulators and a 400-square-metre turf soccer field.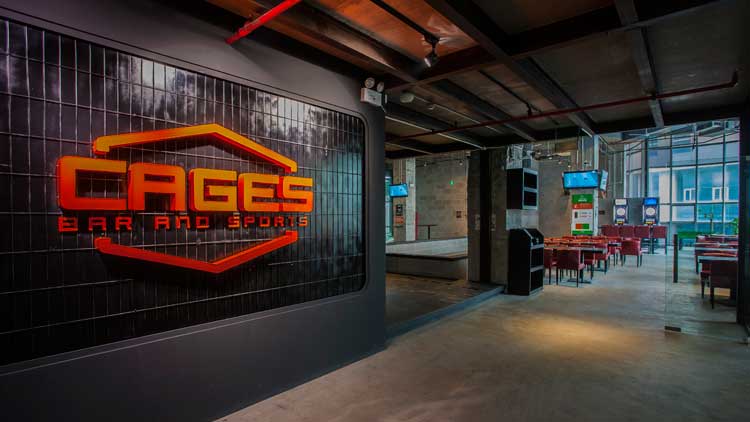 Go for: Cages is by nature an American bar that draws tons of customers from its country of heritage. They annually host huge Super Bowl parties that require ticketing. With the NFL kicking on with plans to start the new regular season in September, you can bank on Cages to deliver a fantastic viewing experience for all NFL fanatics.
What's on the menu: Jason Oakley is behind the kitchen, throwing down rotating special nights like barbecue and deep dish pizza. The Major League Nachos (98RMB) can easily feed four people. Budweiser is currently the cheapest draft (40RMB) and they have a variety of craft beers on tap including Boxing Cat and Brewdog. The blueberry margaritas (88RMB) are also unsuspectingly delicious.
Commentary: Cages always has commentary – mostly for the main game screening, which you can hear all over the venue. Less in-demand games on smaller screens generally take a back seat.
The Shed
The lowdown: A tried-and-tested staple for all sport-goers in the Jingan area and beyond. The Shed is Aussie run with an abundance of memorabilia covering the walls (notably an unmissable Joey O'Brien West Ham jersey) and an intention to show all sports live and uninterrupted. Previously they've hosted major events such as The Ashes, World Cups and Grand Finals. Football is frequently on the 11 screens when you walk in – however, they have an affinity towards F1 so that will dominate when there is a race on. If your eyes need a break from the screens there is a pool table that hosts weekly killer competitions and two dartboards out the back.
Go for: While The Shed is dependable for most sports it is one of the few places that will show both codes of rugby and AFL. Last year a dedicated crowd cheered on Tiger Woods into the early hours of the morning as he won his 15th major at Augusta. Expect the same when the golf majors resume in August.
What's on the menu: On a Wednesday The Shed gets super busy for its chicken wings (2RMB a wing but must purchase a drink). The cheapest drafts are Carlsberg and Kronenbourg (30RMB and 40RMB). On Friday between 6pm and 8pm drinks are half price and on Monday food gets the same treatment.
Commentary: Expect it for big games like derbies, reoccurring events (F1, UFC) and latter stages of tournaments (grand slams, grand finals) but you might need to ask when the sport on show isn't as recognised.
The Blarney Stone
The lowdown: Closing in on 20 years, The Blarney Stone is your typical Irish pub standing tall at the end of the Yongkang Lu. Think Irish paraphernalia on the walls, wooden hues, old-school Guinness adverts and regulars who have been coming back for years. There are three screens used for most sports (all can be requested) but mostly football with a few Rugby Internationals thrown in and a projector is pulled down for the big time matches. Dartboards are down the back if you need to release any half-time stress.
Go for: The Blarney always fills out when Ireland have a rugby test. Although the Six Nations is over for the year, Ireland will take part in the new eight-team tournament planned for November. It's also a fail-safe spot to catch the final weeks of Premier League action over a Guinness or two.
What's on the menu: Run by The Camel Group, The Blarney's food comes courtesy of El Santo so the menu is now packed with Mexican fare. However it's hard to look past a classic Steak and Guinness Stew (100RMB) At normal prices, the cheapest pour is Carlsberg (35RMB) and Guinness is 65RMB. Prices drop for the happy hour which runs from 4pm to 8pm daily.
Commentary: Yes, for important matches that demand the projector. Otherwise you'll need to ask for it.
The Camel
The lowdown: A stalwart in the Shanghai sports bar scene, The Camel will move to a new undisclosed location by the end of July. For the last few days at the Yueyang Lu digs, there are screens galore (even one above the urinal in the men's bathroom) with a massive one adjacent to the bar and access to more than 200 worldwide channels. All seats are within eyeshot of a screen, there's even a Heineken-sponsored standing area encouraging game-day atmosphere. As it's Australian owned they make an effort to show NRL, Super Rugby and AFL which kick-off and can be watched from lunch to dinner if you're looking to make a day of it. On top of that they play all football (both British and European), F1, along with tennis and American sports. At the weekends, it's still one of the busiest sports bars in the city. You can bank on that to continue at their new venue.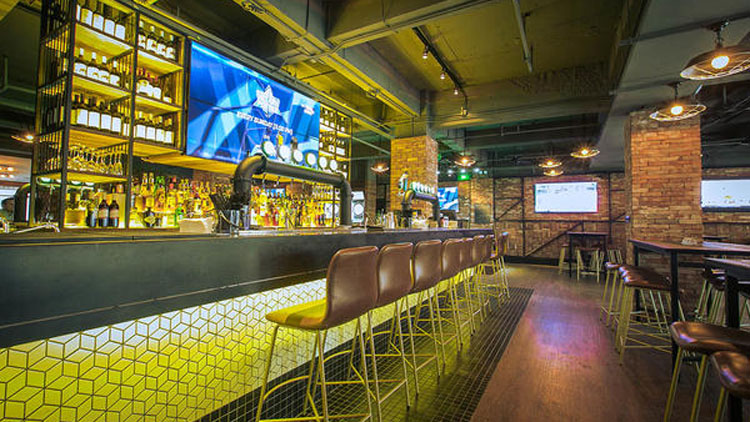 Go for: All kinds of football. Recently they were the stand-out option for Leeds' promotion back to the Premier League after 16 years in exile. In the future, look towards big boxing fights featuring Anthony Joshua.
What's on the menu: Pub grub is the name of the game here and the chicken parmigiana (95RMB) is massive and hopefully built for more than one person. They have 20 beers on tap both mainstream and craft with the cheapest being a pint of Tiger (40RMB).
Commentary: Provided and in English but for the most part focused on games played on the main screens.
Cantona
The lowdown: Cantona is your friendly neighbourhood Manchester United bar that, despite the name, happily welcomes all fans whoever you may support. On the wall there is an impressive Eric Cantona mural that has to be seen, among other sports memorabilia (a framed Yi Jianlian jersey and football club emblems). There's one screen above the bar that is strategically positioned in front of the high-tables and one large projector at the back that is mainly focused on football. It is a football bar first and foremost but the staff can add other sports on demand. Last year they drew a modest crowd for the All Blacks versus Ireland Rugby World Cup quarter-final.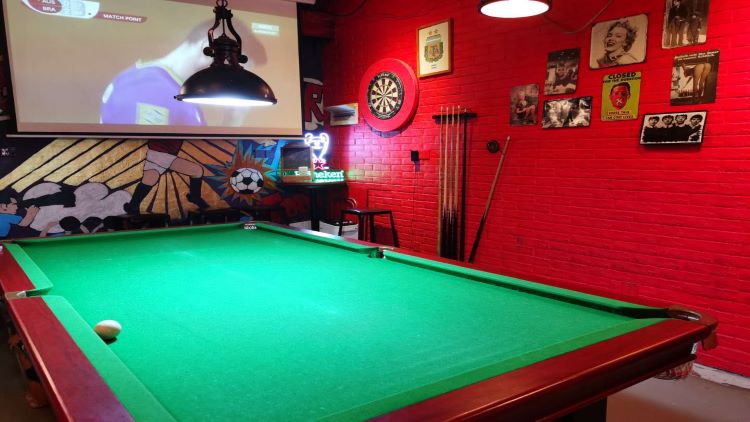 Go for: It's a cosy spot to chat and watch the Premier League with the loyal regulars. They also show Chinese Super League football – last year the Shanghai derby was on the projector (Shanghai Shenhua vs Shanghai SIPG). When there are no football games on don't be surprised to see the CBA (Chinese Basketball Association) on the TVs.
What's on the menu: The manager Kevin Yu makes his own pizzas (58RMB) – the most popular is spicy beef. He also welcomes a chin wag and a game at their sole pool table. Lagers start with Tiger (35RMB and 198RMB for a tower). Happy hour prices run daily until 8pm. We recommend the Lychee Martini (55RMB) as an adventurous touch.
Commentary: Ask and it will be provided. Sometimes the commentary is in Chinese (CCTV5) depending on what streaming service they are using.
The Rooster
The lowdown: The Rooster is modest in size compared to most of its counterparts on this list. It makes up for this in a welcoming setting with a passion for all American sports. Three HD screens can be seen comfortably from all vantage points and already promised are the upcoming returns of the NHL and MLB plus full coverage of the resumption of the 2019-2020 NBA season at the end of the month. Additionally when it's not game time, The Rooster has sports news headlines rolling on all screens keeping you updated on hot topics such as the Patrick Mahomes contract extension and who is (and isn't) travelling to Orlando for the NBA.
Go for: The Rooster opens early in the morning for a lot of special events and have guaranteed some of the 1am tip-offs when the NBA is back. Make sure to catch UFC PPVs on Sunday mornings which match up well with their free-flow brunch packages.
What's on the menu: The food at The Rooster is more refined than standard pub fare, standouts being the fried chicken and pimento cheese burger (55RMB) or chicken wings with one of their seven signature sauces, Buffalo to Liquid Hot Magma (six for 45RMB and 12 for 80RMB). The cheapest drafts to accompany your sport are Stella Artois and Vedett (45RMB), Shanghai Love is also available (55RMB).
Commentary: English commentary when a live game is on.
455 Shaanxi Bei LuONLINE BOOKING
The Park Tavern
The lowdown: Open in Shanghai for over 12 years, The Park Tavern is a classic British pub with a make-yourself-at-home atmosphere. Inside there are two screens showing just about every sport with preferences on request. Recently it screened the return of British football (both Premier League and Championship) and the first F1 race of the season. In the future, you can expect both golf and tennis majors to be shown here as well as Super Rugby for those from 'down under'. Outside there is a covered courtyard with an excess of seats and high tables. The huge projector there will be used for important games and is perfect for boozing and watching sport on those hot summer evenings leading into the night.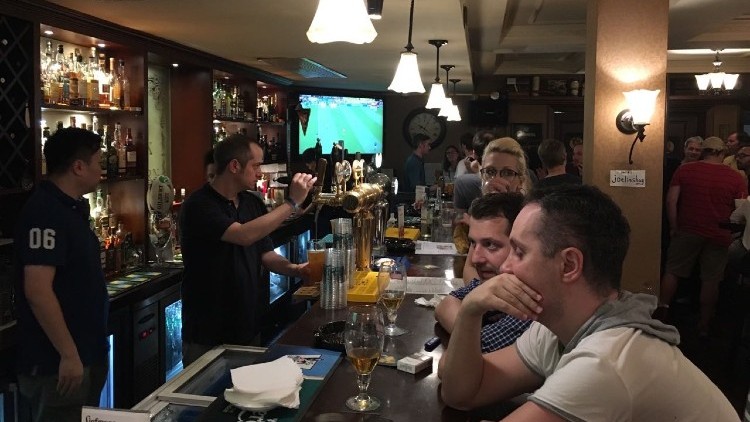 Go for: A relaxed football session, nearly all Premier League games will be on here and The Park Tavern is even the official pub for Tottenham Hotspur fans in Shanghai. It's also a safe bet for F1 with committed patrons lining the bar for the weekly Grand Prix.
What's on the menu: Beer on tap starts with Carlsberg (40RMB for a pint and buy-one-get-one-free during happy hour). That happy hour runs between 11am and 8pm on weekdays with prices slashed on numerous other beers including London Pride. On a Sunday, The Park Tavern does their traditional Sunday roast in three variations: chicken (110RMB), lamb (130RMB) and beef (150RMB).
Commentary: Absolutely for all football games featuring big teams (Manchester United, Liverpool and others) and events such as the F1. They will happily put it on for smaller games if desired.
Hit Wicket
The lowdown: Hit Wicket is a cricket bar slash Indian restaurant hidden discreetly on a lower floor of a Hongkou shopping mall. It's a dedicated place to watch all forms of cricket from 20/20 to one-dayers and tests. Quirks such as an upstairs area named The Donald Bradman Stand and photos of famous cricketers like a personally signed photo of Sachin Tendulkar, signed for the manager Deep Nautiyal when he was in Delhi, add to the authenticity. Hit Wicket is in collaboration with Pudong and Shanghai cricket clubs making it the post-game hangout on a Sunday. There are four HD LED TVs and a giant projector for the most significant games. When there's no cricket on, F1 races and football are displayed.
Go for: It goes without saying, the cricket. They are already showing the England vs West Indies test series and will continue to cover all formats as it slowly resumes including the IPL if rumours are believed that it gets going again in September.
What's on the menu: Regrettably due to the pandemic, Hit Wicket's chefs are currently stuck in India. Otherwise the chicken tikka masala curry would be recommended (65RMB). Until they return the truffle pizza is a worthy substitute (78RMB). Tiger is the cheapest beer on tap (40RMB, pitcher 180RMB) and they have happy hour pricing weekdays on all drinks from 3pm to 5pm.
Commentary: Available and they use Sky Sports so you'll be able to hear the familiar voices of Michael Atherton and Nasser Hussain.
36 Gongping LuONLINE BOOKING
Big Bamboo (Jinqiao)
The lowdown: Another option for those East of the river, Big Bamboo has more of a family atmosphere than your usual rowdy sports bar due to its proximity to international schools. There's decent-sized outdoor seating for the upcoming summer heat and the inside space is teeming with pool tables, foosball and over ten TVs. If you're concerned about finding a TV for one of those sports that no one else follows, trust that it will find its way somewhere on one of Big Bamboo's many screens. Generally all sports are well represented. A TV is always committed to AFL when it's on and the same goes for MotoGP.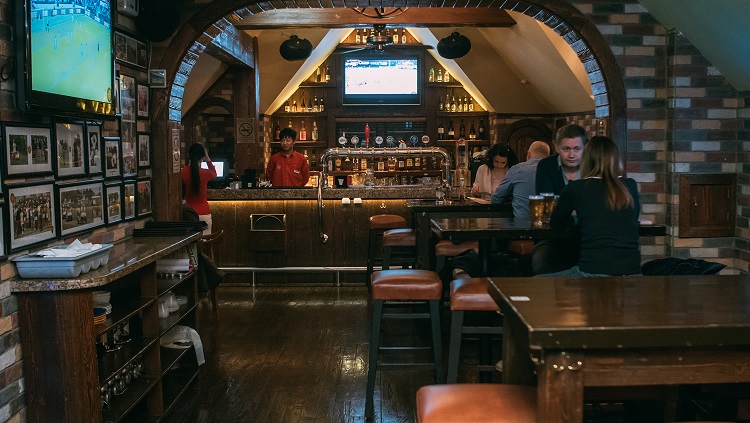 Go for: When you're stuck on child-care duty but you can't miss the game. Outside there is a children's playground with a slide and a grassy area to run around on. Jump for joy as your parenting requirements can be met while cheering your team on.
What's on the menu: They do a variety of specials, one being their weekday Asian lunch deal consisting of a Pad Thai and a drink (68RMB). We recommend trying the beef brisket sandwich (98RMB) as satisfactory pre-game fuel. Drinks wise, Tiger (40RMB) is the standard budget-friendly option but they have Beast of The East on tap if you want to go the craft beer route.
Commentary: It's inconsistent and is dependent on demand.
The Red Lion
The lowdown: A no-nonsense British-style community pub that has survived Shanghai for over ten years. It's a typical British boozer supported by pictures of The Beatles, St Helens scarves and dartboards. They provide the people of Pudong with coverage of most sports particularly ones involving England so that's football, cricket, F1 and Six Nations rugby. If there is a major competition such as Wimbledon (tennis) or The Masters (golf) it is highly likely that the Red Lion will show it (so long as it's not on at an unsociable hour like 4am in the morning). There are four TVs including two behind the bar and one big one out the back as well as outdoor seating.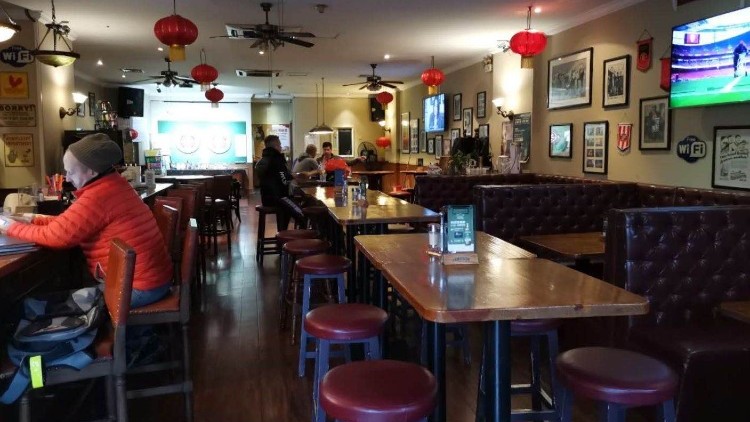 Go for: Both Champions League and Europa League tournaments in August. It's a chance to quickly move on from the 'I miss the football' gloom that follows the end of the domestic season. You'll be comforted by fellow Brits abroad that also speak football as a language.
What's on the menu: The beef pie is a hit with local punters and there is also a very satisfying all-day English breakfast (both 105RMB). Draft beers are Goose Island IPA, Zapfler cider, Stella (all 60RMB) and Tiger (40RMB). Happy hour runs daily between 4pm and 8pm with reduced prices on all drinks.
Commentary: They provide commentary so you don't need to worry about music blaring and taking away from the viewing experience.
Laowaijie (Hongmei Lu)
The lowdown: The primary entertainment hub for residents in the Hongqiao area, Laowaijie is more about the vibe and destination than the particular venues. For sport, there are plenty of options. There's a newer version of The Shed that shares the same intentions as its older brother but in a smaller, more polished setting. You can find a multitude of screens at The Shanghai Brew House showing football and F1. German pub, Papas Bierstube also boasts a number of TV's primarily used for football. The second Big Bamboo outpost is here and has the same sport-centric quirks and traits as the Pudong location.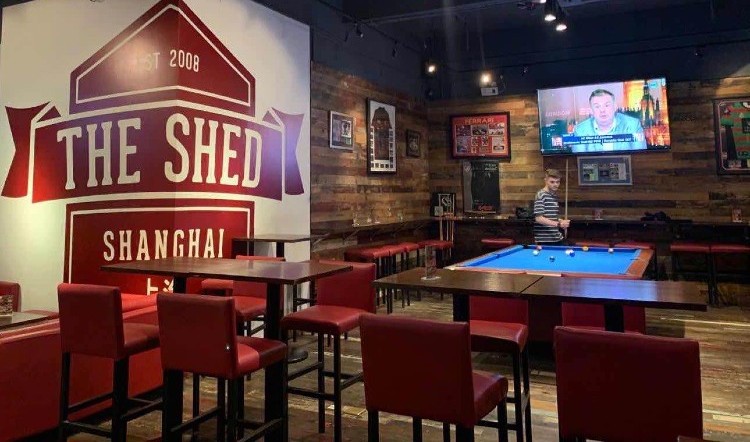 Go for: When you're in the area and downtown feels a million miles away. The Shed is the most sports-focused while Big Bamboo and The Shanghai Brew House are more suitable for group fun with sport taking a seat in the background. Papas Bierstube is reliable for watching Bundesliga football in the company of their German regulars.
What's on the menu: Shanghai Brew House brews its own beers. Start with a tasting paddle such as The Enthusiast (62RMB) which allows you to try four of their creations before committing to one. The menus at The Shed and Big Bamboo are the same as their other locations. For dinner, you can't go wrong with the cajun chicken sandwich (68RMR) at The Shed. Papas Bierstube has all the German favourites on tap (pint of Paulaner at 62RMB) and on the food menu (Schnitzel and Kasslerlachs).
Commentary: Just for the in-demand games that are once an occasion. This is the general vibe for all venues on the strip.