Current Location:
This Article
In a city where anything can happen, an art exhibition from a world-famous cultural institution inside a metro station shouldn't be too much of a stretch…
Well, that's what's currently going down near the West Bund, in Exit 1 of Longhua Zhong Lu station, where works from Madrid's Prado Museum have temporarily become part of the subway's furniture until early next year (Thursday 10 February 2022).
As unexpected as it may seem, the exhibition, titled Metro Meets Prado (or Encuentro Con El Prado in Spanish), has reproduced real-size replicas of 29 Renaissance masterpieces from Spain's national art museum, known for displaying one of the world's finest European art collections.
It's hosting heavyweight names like Jan Brueghel el Viejo, Peter Paul Rubens, Albrecht Dürer and Francisco de Goya, all printed on canvas and displayed with elaborated frames. Fans of Diego Velázquez – possibly the most influential painter of the Spanish Golden Age – will be thrilled to come across 'Las Meninas', a portrait that is still a source of inspiration for many artists today, depicting young princess Margaret Theresa surrounded by her maids, chaperons and animals, while Velázquez painted her parents, King Philip IV and Queen Mariana.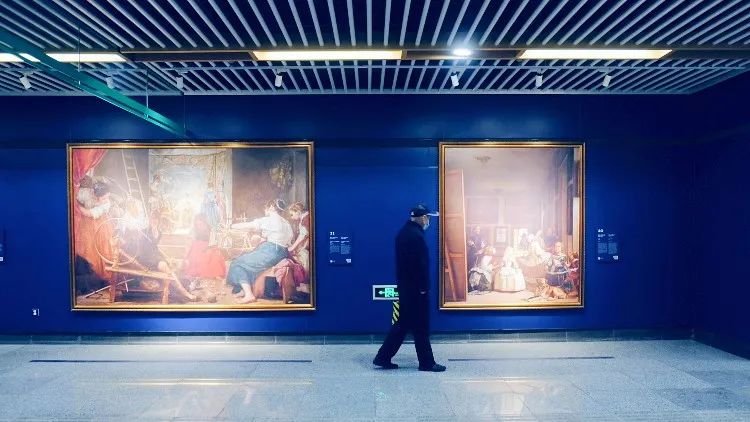 For those with the extra time to dig a little deeper behind each painting's meaning, they all have a QR code and two videos explaining the story behind them. Can't visit the exhibition in person? Check out this mini programme made especially for the exhibition, in both Chinese and Spanish.
Venue details: Metro Meets Prado, Exit 1, Middle Longhua Road Metro Station, 699 Dongan Lu, near Longhua Zhong Lu. Until Thu 10 Feb 2020. Free entry.