Shanghai Disneyland Park
Shanghai Disneyland Park, located inside the Disney Resort in Chuansha New Town of Pudong New Area, has been open since June 16th, 2016. It covers a construction area of 116 hectares (287 acres)
Map of Shanghai Disneyland Park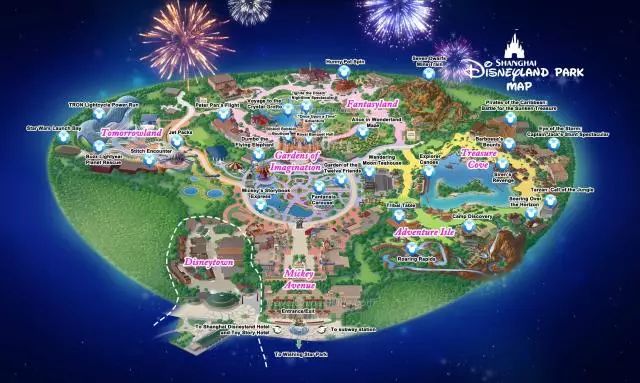 As the sixth in the world and the first in mainland China, Shanghai Disneyland Park creates many records among the existing Disney parks. It has the tallest theme castle: the Enchanted Storybook Castle, the first garden-designed zone and the first pirate-themed garden. It also combines movie figures with Chinese elements, like the Chinese Zodiac Murals in the Gardens of Imagination. There are altogether six theme attractions inside the park.
Mickey Avenue
Once you enter Shanghai Disneyland Park, you will walk along Mickey Avenue and see the Steamboat Mickey Fountain right inside the gate. Mickey Mouse and his friends gather along the street welcoming visitors from all over the world. This place is also a busy bazaar. Tourists can select exquisite goods and enjoy tasty snacks while wandering around. The figures from the animated movies walk around the street. Visitors have a chance to hug them and take photos with these lovely friends.
Gardens of Imagination
This is the first garden-designed Disney park in the world, with bridges and paths connecting seven themed areas. There is a unique viewing ladder for visitors to view castle stage plays and splendid night performances. Chinese Zodiac Murals in the Garden of the Twelve Friends turn the movie figures into the twelve animal signs. Guests can try to find their own zodiac signs on the wall and take photos with them. Merry-go-rounds and other entertaining facilities are also open to the public.
Adventure Isle
Adventure Isle takes visitors into a newfound ancient tribe. It is filled with mysterious feelings and hidden treasures. You can prove yourself a real adventurer in the Camp Discovery, finding traces of the lost tribe, or exploring natural scenes and ancient tales. Visitors who want to view the world can achieve this wish at Soaring over the Horizon. This will take you over the landmarks in every corner of the world. Roaring Rapids carries guests into the heartland of Adventure Isle. Drifting down the river on the rafts, you will pass through unknown places and rush into the gloomy caves, meeting giant mysterious monsters.
Treasure Cove is the first pirate-themed park in Disney Park with two giant pirate ships, one pirate restaurant and a water-play zone. Visitors will be stunned by the epic settings at Pirates of the Caribbean – Battle for the Sunken Treasure, which is an indoor drifting adventure facility. Captain Jack Sparrow will lead the players to steal the treasures of Davy Jones. During the journey, guests will encounter brave pirates, beautiful mermaids, and even the Krakens. There is an elaborate play, Eye of the Storm: Captain Jack's Stunt Spectacular, in the theater. The fantastic stunts and fierce fighting scenes give the audience amazing visual effects.
The elaborately designed Tomorrowland presents endless possibilities of the future. Using high-tech, this park is like the settings of science fiction movies. The shooting program, Buzz Lightyear Planet Rescue, gives visitors a mission to save the world. It simulates outer space with LED screens and uses real-time feedback aiming system to make players immersed in the story and destroy enemies. Visitors will become space pilots at Jet Packs, rising into the sky by the futuristic vehicles. At the high viewing point pilots will see breath-taking scenery of the whole park. Guests will also be taken into the world of Star Wars and Marvel, meeting movie heroes and symbolic battle scenes.
Fantasyland
Fantasyland is the largest park in the Shanghai Disney Resort. There is a magnificent Enchanted Storybook Castle, which is the tallest, largest and the most interactive Disney Castle in the world. For the first time guests can have an interaction with animated Snow White, and wander in her story world on the top floor of the castle. Visitors can also overlook villages and forests in the park from the castle's windows. In Fantasyland, Voyage to the Crystal Grotto will take you for a trip on water, passing by lively fountains and sculptures, and then enter the crystal cave. You will weave through mines with the Seven Dwarfs and visit their house, or explore the Hundred Acre Wood with Winnie the Pooh.
Shopping & Accommodation
There are Chinese and Western restaurants and shops all around the park, so visitors don't need to worry about where to eat. They can also take packed food and bottled water with them, while glass bottles are forbidden. Shops mainly sell Disney toys, key rings, watches and other souvenirs.

Outside the park, there is Disneytown, a large-scale shopping center comprising food and entertainment. The Walt Disney Grand Theater, where you can enjoy the Lion King Performance, is located there. Disneytown is open for free. If you want to visit it only, you don't need to buy the ticket for Disneyland Park.

Two themed hotels near the park, Shanghai Disneyland Hotel and Toy Story Hotel, give visitors a chance to arrange a multi-day trip of the resort.
How to get there
From Shanghai:
1. Take Subway Line 11 and get off at Disneyland Park Station. Go out via Exit 1, and then walk for about 5 minutes to the park. It's advised to buy a return ticket upon arrival at the subway station to avoid the long queue in the evening.

2. Take bus line Pudong 50, Pudong 51 or Pudong 52 and get off at South Public Transit Hub. Then walk for about one mile (1.6 km) to the park or transfer to shuttle bus 2 or 3 in the resort.
 Shanghai Bus / Subway Search

3. Take an express bus line to the park.
1    Shanghai Long-Distance General Bus Station (near Railway Station): Located at No. 1666, Zhongxing Rd.    08:10, 09:45    30    
2    Shanghai Long-Distance South Bus Station (near South Railway Station): Located at No. 666, Shilong Rd.    08:00, 10:00, 12:00    30    
3    Hongqiao Transportation Hub (near Hongqiao Railway Station): Located at No. 298, Shenhong Rd.    09:00, 10:00, 11:00    40    
4    Pudong Airport: Located at T1 & T2 terminals    11:00    30    
5    General Station of the Tour Bus Center: Located at No. 2409, Zhongshan Nan'er Rd.    08:00    30    
6    Hongkou Branch of the Tour Bus Center: Located at No. 444, Dongjiangwan Rd.    08:00    30    
7    Huangpu Tour Bus Center: Located at No. 1588, Waimalu Rd.    08:00    30    

4. Take a taxi from downtown at a cost of CNY 130 and arrive in around an hour. It is about a 45-minute drive from Pudong Airport by taxi and the cost is around CNY 70.

 From Hangzhou:
Take a tour bus from Hangzhou Passenger Transport Central Station (Jiubao Passenger Transport) to Shanghai Disneyland. The bus is available from 07:30 every day. It takes about 2.5 hours and the cost is CNY 100. Both one-day and two-day round-trip tickets are sold at the price of CNY 160. The pre-sale period is 10 days.
Ticket Booking
Visitors can book tickets on the official website or mobile app of the park or by calling 400-180-0000 or 021-3158-0000. You can also follow the official WeChat account ShangHaiDisneyResort to book a ticket. Of course, tickets can be bought at the entrance, but there may be a long queue. Visitors need to show passports or ID cards to book tickets and enter. But there is another solution. You can get your Disney Ticket with 20 more similar places in only CNY 499 by calling 150-0057-9753 English or 177-2110-4547 Chinese or Add WeChat: 2718316089 and get your Disney Pass at your Doorstep
Ticket Price
Standard (1.4m+ / 4.6ft+)    1-day Ticket    Regular>CNY 370 Designated days>CNY 499    
2-day Ticket   Regular>CNY 670   Designated days>CNY 900    
Child (1-1.4m / 3.3-4.6ft)
Senior (Age 65+)
Disabled (Certificate of Disability required)   1-day Ticket Regular>CNY 280   Designated days> CNY 375    
2-day Ticket Regular>CNY 510 Designated days>CNY 680    
Note
1. A Child under 1 meter (3.3 feet) can enter for free when accompanied by an adult.
2. 'Designated Days' include Saturday, Sunday, public holidays, and Jul. & Aug. If a two-day ticket covers a regular day and a designated day, the price is CNY 785 for a standard ticket and CNY 595 for a ticket for children, seniors, and the disabled.
3. The two-day ticket is valid for two consecutive days, ie., the date you select and the day after that.
4. As of March 27, 2017, tourists can buy the Spring Seasonal Pass with indefinite entries during the period from March 27 to July 16, 2017, except April 30. The Any Day Seasonal Pass is priced at CNY 1,250, the Weekday Seasonal Pass CNY 925, and the Sunday Seasonal Pass CNY 825. Those who buy the one-day ticket during this period can update their ticket to the Spring Seasonal Pass by filling the price gap at the ticket window.
Opening Hours
May 3 – 10    08:00 – 20:00    
May 11    08:00 – 20:30    
May 12 – 14    08:00 – 20:00    
The park may adjust its opening time according to visitor number, so visitors had better arrive there half an hour before the opening time in case it opens earlier than expected.
Travel tips
1. As there may be crowds in the park, how to save time will be a top concern. Arrange your schedule reasonably. It's wise to download an official APP beforehand so as to keep attention on the time needed for lining up for an attraction. A Fastpass ticket will help you a lot to save time. If possible, go there on weekdays when there are fewer visitors. And the best option for you is to buy tickets via tigher coupons, you will get ticket at your doorstep.
2. Wear comfortable sneakers because you need to walk a lot during the day.
3. Visitors older than 16 are not allowed to wear costumes of characters in cartoons, movies and comics.
4. Prohibited items include selfie sticks, large tripods, folding chairs and luggage over the size of 56cm x 36cm x 23cm. Animals are not allowed to enter, excluding guide dogs.
5. At the main entrance there are wheelchair and pram rental stations. The rent is CNY 50 one day for a pram and CNY 40 for a wheelchair.
6. The park provides a left luggage service at the Wonderful Memory House near the entrance.
Keywords: China Expat,expat in china,learn Chinese ,Chinese culture ,China jobs ,China travel, 外国人在中国
Other Recommendation
10 Disturbing Things You'll Only Find In Chinese Walmarts
Want To Find Chinese Wife? Visit The Shanghai Marriage Market
WeChat Cheaters are Shocked, Now They Can't Cheat Your Money